Torrid is one of my favorite places to look for plus sized clothes. One of the things I love is that they have tons of fresh styles for plus sized women that aren't matronly. They're the same great styles that our friends are wearing, and not our grandmas.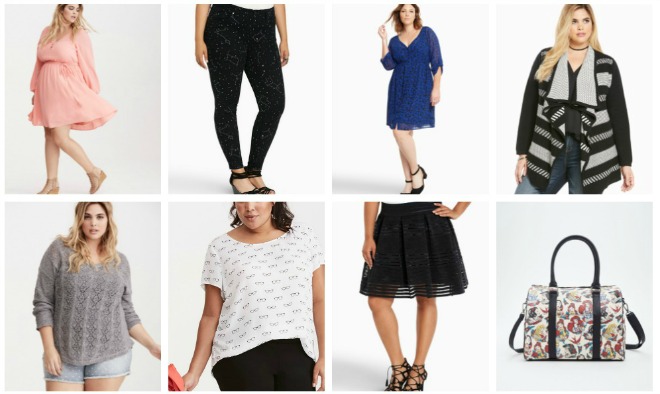 Torrid's clothes are made, and designed for, the larger sizes, too.  They're not just scaled up versions of a regular sized garment. They have shoulder room and extra space in the bust, larger arms and legs, without looking sack-like. That's a total win!
Torrid Plus Sized Fashion Favorites
These are some of my favorite items from Torrid right now. If you're not familiar with Torrid, they often have sales like BOGO 50% off, or their own version of rewards dollars called Haute Dollars. Links may be affiliate links.

Top Row
1 Striped Heart Elbow Patch Sweater ($39) – This is just super cute. I love stripes, and think everyone should have a black and white striped top.  Add in the heart elbow patches for something that's fun and totally unexpected!
2 Disney Ariel Collection Shell Cardigan ($58.50) – I am a huge fan of cardigans. What could be better than a cardigan? A cardigan that s from The Little Mermaid, but still grown up enough to wear everywhere. Scattered with shells and mermaids (!), the lace inset and sophisticated aqua kick this up even another notch.  Super cute, and fab for spring.
3 Boyfriend Jeans ($65) – As I mentioned in the places to find plus sized jeans post, these are my favorite jeans. They just fit perfectly. Torrid does a great job with providing several lengths of jeans, too – from extra short to extra tall.
4 Love Intarsia Sweater ($55) – This sweater has cute, modern styling, and is a step up from the graphic tee.  You could totally wear this to work, or on the weekends with a pair of jeans.  It's shown paired with the Striped Sheer Flared Skirt.
Second Row
5 Embroidered Mesh Gauze Skater Dress ($69) –  Everyone needs a fun, flirty dress, and this is totally it.  The color is perfect for spring. Wear with leggings and a sweater on cooler days.
6 Constellation Print Skinny Jeans ($65) – Now when someone tries that pickup line about your derriere, you can say "WHY YES I AM WEARING SPACE PANTS!" These are so super fun, and almost look like polka dots from a distance.
7 Triangle Print Dress ($36) – A super flattering style that's perfect for the office or dinner on the town. Chiffon dress with a slip lining provides a lot of movement. This is the perfect dress to get now and carry you through spring.
8 Striped Draped Open Front Cardigan ($40) – I have a few of this style of sweater from Torrid, and they're perfect for running around town. The style is cute and casual, but not unprofessional. And the weight of the sweater keeps you warm, but not so hot that you need to take it off in the car.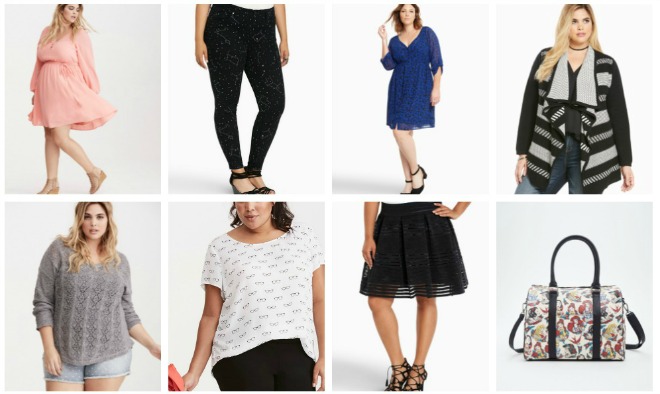 Third Row
9 Open Stitch V Neck Sweater ($55) – I am a huge fan of sweaters, and this one is no different. It's a great work to weekends style, and looks great with jeans or leggings. It's cute with shorts, and is great for a casual date night.
10 Eyeglasses Print Button Back Blouse ($39) – I am a huge fan of fun and cheeky clothing. This is a great print that doesn't scream "I'm FUN AND CHEEKY!" It's subtle, yet totally modern. It's perfect for work, but not out of place on the weekends.
11 Striped Sheer Flared Skirt ($55) – A fun and flirty skirt that's toned down enough to wear to work, but doesn't look out of place at all out on a date, or at a party. Very retro in its feel, too. Shown paired with the Love Intarsia sweater in the 4th photo.
12 Disney Princess Tattoo Bag ($63) – I love retro tattoo flash art. I always have, as I think I'm drawn to the graphic nature. Welll…this bag has some major Disney princesses styled as tattoo pin-ups, and filled in with flash art. Snow White, Cinderella, Mulan, Ariel, Belle…they're all there!

Last Row
13 Embroidered Top ($45) – Soft and delicate, this top lends an almost romantic feel to anything you pair it with.  I love it with jeans and some chunky jewelry for a Boho look, but it also looks great with slacks or a long skirt. This is one you'll reach for again and again.
14 Distressed Denim Jacket ($59) – Everyone should have a denim jacket in their wardrobe.  It adds an air of casual cool chic to just about any outfit. This one had a little bit of wear and distressing for that lived-in look, but isn't destroyed.
15 Rose Print Chiffon Smocked Blouse ($39) – I love this top! I have a couple of this style in different prints, and they're super flattering. The small ruffle detail adds an extra touch of femininity, too. Great for the office, great for date night, great for shopping.  And because they're chiffon, they're so light and airy.
16 Navy Deluxe Stretch Skinny Pant ($59) – Because you need pants that aren't jeans!!
Which of these Plus Sized Fashion Pieces from Torrid are your favorites?