I love a wild and crazy shoe. I believe I've said this before, but it definitely holds true. We all know that accessories are a great way to express some personality. For some reason, though, people usually neglect their shoes as accessories. Why is that?  Is it because they tend to be a bigger investment than a scarf?  Or they get dirty quicker than an expensive bag?  Whatever the reason, we need to re-evaluate this.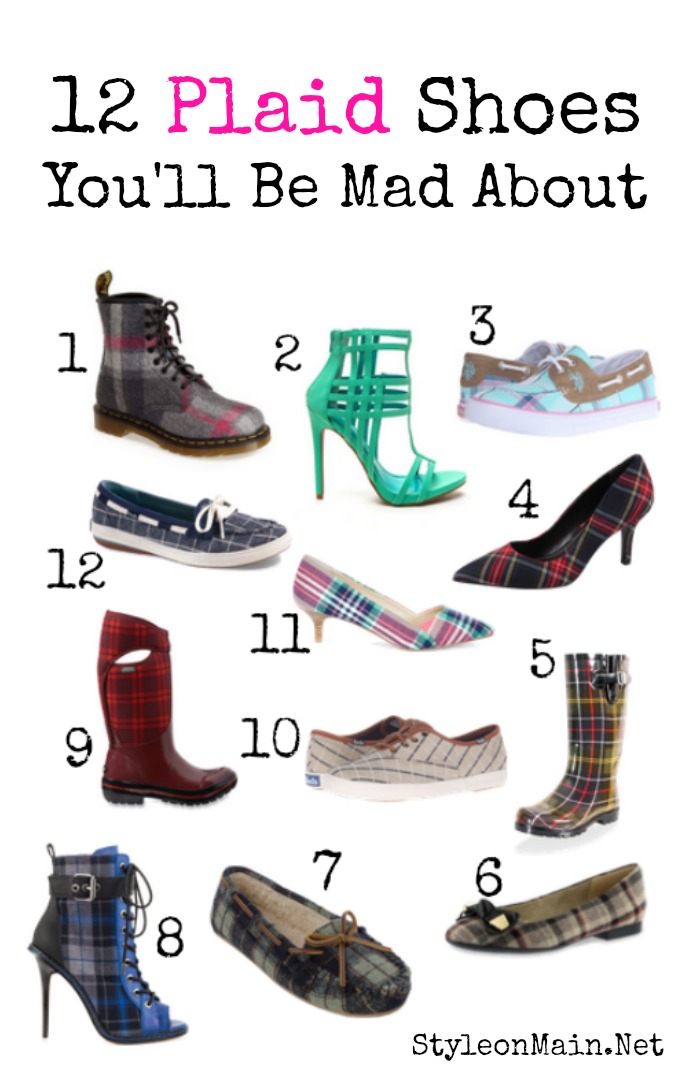 One of my favorite types of shoe is a patterned one, like polka dot or plaid shoes.  I have a pair of plaid Keds that get heavy rotation during the summer. They're great with denim or a skirt, and look really cute. These are a few of my favorite plaid shoes out there.
12 Plaid Shoes that You'll Go Mad For
Links may be affiliate links.
1 Dr Martens Plaid Castel Boots ($70) – These are a printed boot that has a canvas upper, rather than the traditional leather uppers. Still, a fun boot, and the price is rather reasonable.
2 Be-Weave in Yourself Strappy Heels ($25) – These fun, strappy heels remind of a windowpane plaid. And you can't beat the price! Available in Green, Black, Fucshia, and Nude.
3 US Polo Assn Mate Boat Shoes ($16) – Such a great style for summer.  Easy on, easy off. Adds a touch of preppy style without going overboard.  Also available in pink/black plaid, and a couple solid colors.
4 Charles by Charles David – Sasha Pump ($95) – A tartan plaid pump? OH YES PLEASE!  These are brand new, for Fall 2016. Get on the trend before it hits.
5 Nomad Puddles Rain Boots ($55) – We all need rain boots!  Even if you live in a dry climate, you never know when that monsoon is going to hit!  Plaid rain boots is just an iconic look, and one of my favorite ways to rock plaid shoes. If plaid isn't your thing, there are tons of other styles too.
6 Bella Vita Stone Plaid Ozark Flat ($63) – Who doesn't love a great flat? These are perfect for a-line skirts, trousers, or even jeans. Dress 'em up, dress 'em down.
7 Minnetonka Plaid Cally ($40) – Yes, these are technically a slipper, but so? You still need something to keep your feet warm, and look cute too.  These are a great buy, and will last SO LONG!
8 GX by Gwen Stefani Tropic Plaid Bootie ($118) – So bold and trendy, just like Gwen Stefani. Fun stiletto bootie that packs a lot of punch.
9 Bogs Plimsoll Plaid Rain Boots ($56) – Sometimes rain boots can be a real pain to get on. These have 4 way stretch AND handles on each side. Game. Changer. Super cute styling, and they'll keep you warm and dry. Also available in teal and black. Normally $140!
10 Keds Champion Windowpane Plaid Shoes ($55) – These are the classic Keds that everyone knows and loves, in a fab plaid pattern.  Available in Tan and Black.
11 Desi Kitten Heel Pump ($70) – So cute, and perfect with jeans. These are available in about 4 plaid colors, and other fun prints, too!
12 Keds Glimmer Plaid Boat Shoes ($55) – Super cute styling with fabric that almost looks like suiting. These are a lot more subtle than some of the other selections here. Plus, they have that great Keds quality.
These are a few of the plaid shoes I'm loving! How about you?