Style on Main is all about fashion and beauty for real people. Let's face it – we're usually shopping at Old Navy, Kohl's, and Macy's. We love the capsule collections that Target releases, and we stayed up all night to get an item from the Lilly Pulitzer/Target collab. It's okay!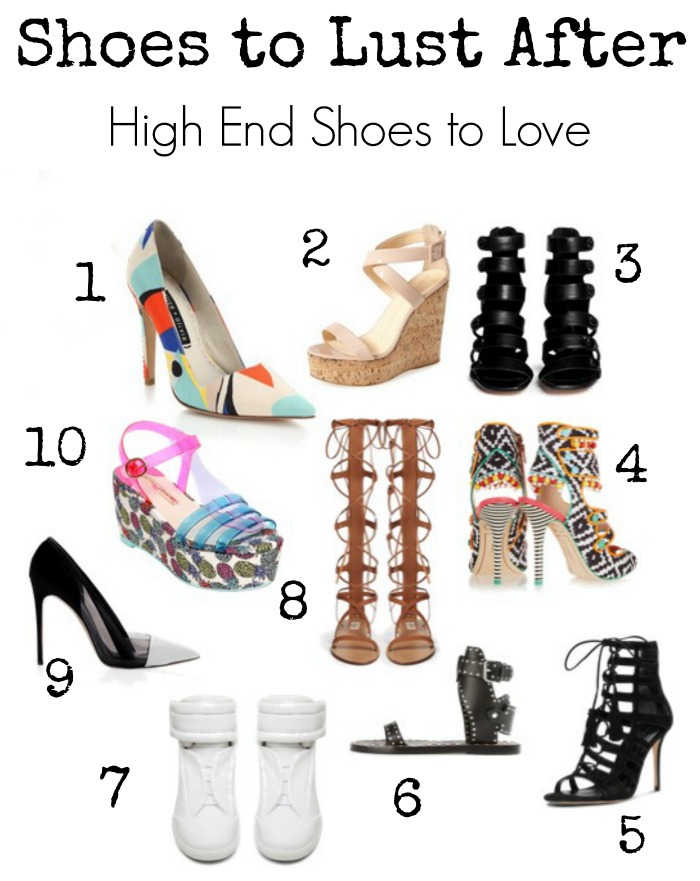 Sometimes, though, you just have to say eff it, and splurge. I may have had a $500 handbag in my shopping cart and a credit card in my trembling hands over the weekend, before I was talked down from the ledge. These are a few of the shoes that are totally splurge-worthy! Rawr.
1. Alice + Olivia Dina Printed Pumps ($295) 2. Giuseppe Zanotti Roz Platform Wedge sandals ($795) 3. 10 Crosby by Derek Lam Tansey Sandals ($355) 4. Sophia Webster Amma Aztec Sandals ($995) 5. Michael Kors Lace Up Open Toe Sandals ($550) 6. Isabel Marant Johanna Studded Leather Sandals ($299) 7. Maison Margela White Velcro Hi Top Sneakers ($968) 8. Valentino Knee High Gladiator Sandals ($1495) 9. Prabal Gurung Embossed Toe Cap Pump ($890) 10. Sophia Webster Suki Pineapple Print Jelly Sandals ($375)
These may be affiliate links, which means that we get a few pennies if you make a purchase.
Looking for some more affordable shop options? Check out our Budget Friendly Sandals and our Espadrilles under $75 for a couple good subs for the above.