Since we've been staying home a lot more, most of us have noticed that our pajamas and loungewear needs an upgrade. These lounge wear sets are right on trend and will have you looking cute at home.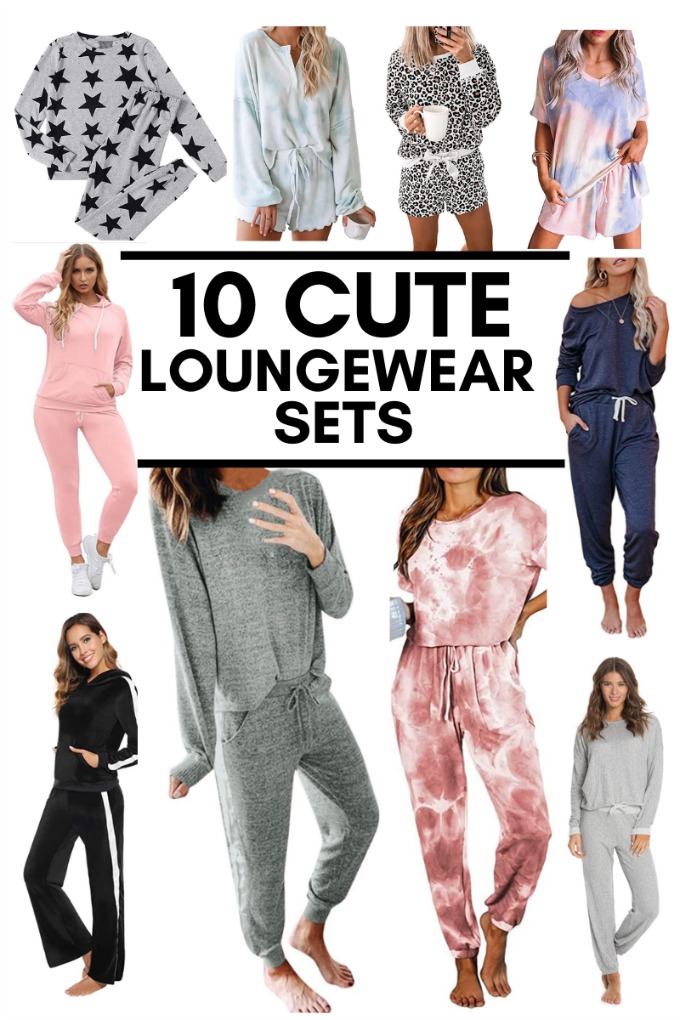 Now, I'm not naming names (*cough*Greta*cough) but maybe that old tee shirt you wore to stain the deck and a pair of holey PJ pants are ready to be retired. Maybe it's time to replace them with a cuter pair of pajamas that, like, actually go together.
We've rounded up some of our favorite lounge wear sets that are available on Amazon. There's all sorts of colors, styles and shapes for every body. Most are budget friendly at under $30, too.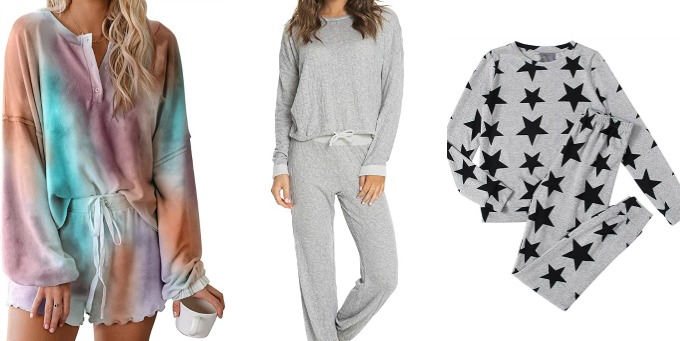 10 Fab Loungewear and Pajama Sets from Amazon
Links may be commissioned.
1 All over Star Print Tee and Pants – Everyone knows you're a star, now show them you know it too. This allover star print loungewear set has a long sleeve top and joggers. Super cute and playful, and not too heavy.
2 Tie Dye Printed Long Sleeve & Shorts Pajamas – These comfy jersey knit pajamas are super cute. The tops are a little oversized, and the shorts have a baggy fit as well. But, the lettuce edge detailing adds a great touch of femininity. Plus, they come in 6 fun tie dye prints.
3 Leopard Print Long Sleeve + Shorts PJs set – You can never have enough animal print. That's my motto, at least. And you certainly can't have enough at this great price, and when they're this cute. The long sleeve raglan top is a great match to the boyfriend shorts. Tied with a bow, for a little girly touch, these leopard pajamas are so cute.
4 Tie Dye Print Short Sleeve and Shorts Pajama Set – Tie Dye is soooo hot right now. It's making a comeback, so hop on the trend train! This short sleeve top and shorts are perfect jammies for warmer weather.
5 Hoodie & Joggers Matching Set – Even though this says sweatsuit, it's more like a cross between leggings and joggers. The hoodie has a slightly cropped fit, and the pants fit snugly like leggings. Great for at home walks around the neighborhood.
6 Slouchy Long Sleeve Top and Jogger Pants Loungewear Set – Super cute and comfy set of loungewear or pajamas that are great for hanging out at home. The long sleeve top can be slouchy, and the jogger pants are a step up from your jammie pants. Comes in 9 colors including heathered solids and tie dyed prints.
7 Velour Loungewear Tracksuit with Flared Pants – Have you heard? Velour tracksuits are back. Take advantage of the trend in a sporty way without breaking the bank. Plus, you can't go wrong with any of the 5 colors.
8 Spacedyed Long Sleeve Top and Pants Loungewear Set – The rib knit long sleeve top and joggers are great together, and even better separated. Both pieces are great to pair with others, Try the jogger pants with a simple tee for warmer days. Comes in 5 great colors, too.
9 Tie dyed crop top with jogger pants pajamas set – This tie dye pajama set is so cute. The crop top has a keyhole detailing in the back and the jogger pants are totally on trend. It's a great set for hanging out around the house, and you can wear it if you need to go run an errand.
10 Barefoot Dreams Crinkle Jersey Lounge Set – Barefoot Dreams is a higher end company that specializes in comfy and cozy clothing that looks cute. This crinkle jersey set has a long sleeve top with a drawstring at the waist and a pair of matching track pants. And you can't go wrong with any of the three colors.
Aren't these loungewear and pajama sets great? They're perfect for upgrading your quarantine cuteness while still being budget friendly.