I am gonna just come right out and admit it.  I've always worn combat boots.  I got my first pair of Dr Martens in like 5th grade, and have been proudly wearing them ever since.  Of course, when I was in 5th grade, grunge was in, and it was the 1990s.
Grunge is back, and so are so many of the great components.  Like plaid, flannel, torn jeans, babydoll dresses, and my beloved combat boots.  These combat boots are going to keep you right in style for the fall, and beyond.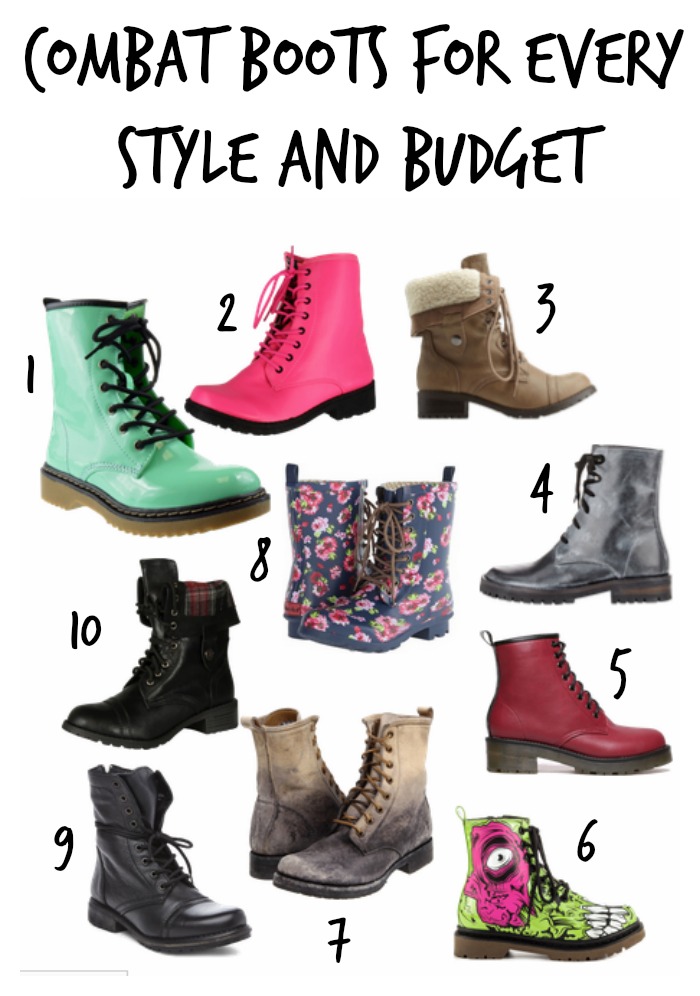 10 Combat Boots for Every Style and Budget
Links may be affiliate links.
1, Mint Green Combat Boots ($30) – How cool are these?  Perhaps a little more Spring-y than fall-ish, but still. At this price, you can afford to have combat boots in a wide array of colors.
2. Neon Pink Combat Boot ($45) – Seriously. I think that says it all.  These are also available in Neon Yellow and Black.  L-O-V-E!
3. Shearling Lined Combat Boots ($46) – These totally remind me of something an old time aviator would wear.  Like, I can see Amelia Earhart wearing something like these shoes.  The convertible style gives you two looks in one.
4. Ann Demeulemeester Metallic Combat Boots ($1350) –  I am LOVING the gunmetal finish of these boots.  Of course, I'm the proud owner of metallic bronze combat boots, sooo…
5. Lace Up Ankle Combat Bootie ($39) – So super cute!  They're like mini combat boots.  I think these would look really cute with pants or skirts, when you don't want to deal with all the constriction from a tall boot.  Available in black, red, or white.
6. Zombie Stomp Combat Boot ($70) – Okay, how cool are these?  I think we've discussed many a time that I love wild and crazy shoes, so, yeah.  I'd wear 'em.
7. Frye Veronica Oiled Suede Combat boots ($278) – I think the two tone look of these boots is so different! And the fact that they're suede, rather than hard leather, bumps them up a notch, too. These are available in about 10 colorways.
8. Chooka Combat Floral Boots ($50) – Not even gonna lie, I am OBSESSED with these!  I bought a very similar pair the beginning of summer, and I'm gonna have to bust those out.
9. Steve Madden Back Fame Combat Boots ($80) – These have that great classic combat boot look without the bulky heaviness.  Let's face it – combat boots aren't the cutest shoe ever.
10. Soda Oralee Foldover Combat Boots ($44) – This is another pair that has a two-fer look.  Wear 'em up for the tall look, or fold them over and let the lining show for a little extra sumtin sumtin. Available with a plaid or a camouflage lining.
Combat boots don't have to be big, black, and heavy.  There are tons of really great options that will have you thoroughly embracing the trend!
Tell me: Are you embracing the grunge trend and combat boots?