I am a huge fan of easy breezy fashion. We all want to look good, and not have to spend hours to get that way One of the secrets to lazy fashion is cute shoes. These womens espadrilles are going to make your spring and summer fashion so easy, it'll look like you spent alll day putting your outfit together.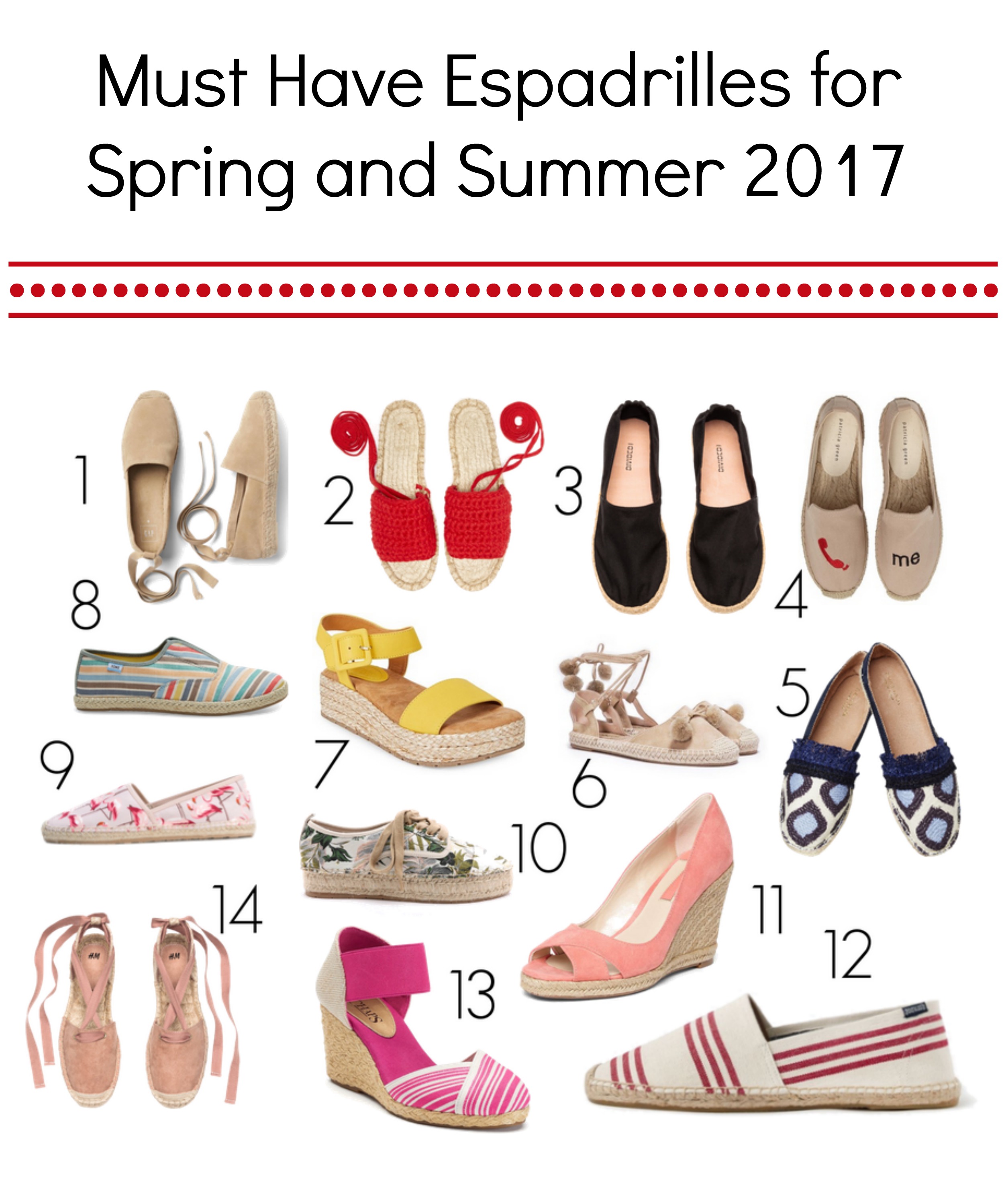 Espadrilles have been around for a while, but haven't been super popular in years. They started to have a revival a couple years back, but they didn't quite catch on. Never fear, though! Espadrilles are going to be back in a huge way, and you don't want to get caught without a pair. The best part? Most of these are under $75, with many being less than that.
Must Have Womens Espadrilles for Spring and Summer 2017
Links may be affiliate links. They help support our shoe habit.
These are some of our favorite womens espadrilles that should be in your closet.
1 GAP Suede Lace Up Espadrilles ($50) – Available in Olive, Storm, and Khaki
2 Wool and the Gang DIY Platform Espadrilles ($55) – Oh yes, it's a kit to crochet your own womens espadrilles. And it even includes the sole. So fun!
3 Basic Espadrilles ($13) – Available in Black or Powder Pink
4 Patricia Green Call Me Espadrilles ($75)
5 Blue Ikat Espadrilles with Fringe ($111)
6 Nasty Gal Cool and Collected Pom Pom Espadrille ($40) – Available in Camel, Black, and Nude
7 Kenneth Cole Reaction Calmwater Espadrille Platform Sandals ($79) – Shown in Sunflower. Also available in a great tangerine-red shade and Navy.
8 TOMS Beach Stripe Palmera Womens Espadrilles ($64) – The stripe is super fun, but these are also available in a natural, chambray dot, and blue floral pattern.
9 Red Valentino Flamingo Print Espadrilles ($250)
10 J/Slides Rally Lace Up Floral Espadrille Sneaker ($130)
11 Dorothy Perkins Pink Callie Espadrille Wedges ($55)
12 Soludos for J Crew Striped Espadrilles ($52)
13 Chaps Chelsi Womens Espadrilles ($65) – The pink stripe is fab, but these also come in Navy Stripe, Denim, Light Clove, and Black
14 Lace Up Espadrilles ($30) – Available in Powder Pink, as shown, Black, and White.
Are you jumping on the Espadrille bandwagon? Which pair is your favorite?