Wine cocktails are oh so popular right now. But honestly, the classic wine cocktail – Sangria – has been around for a long time. But even Sangria is having a moment with fun experimentations, like this Blueberry sangria.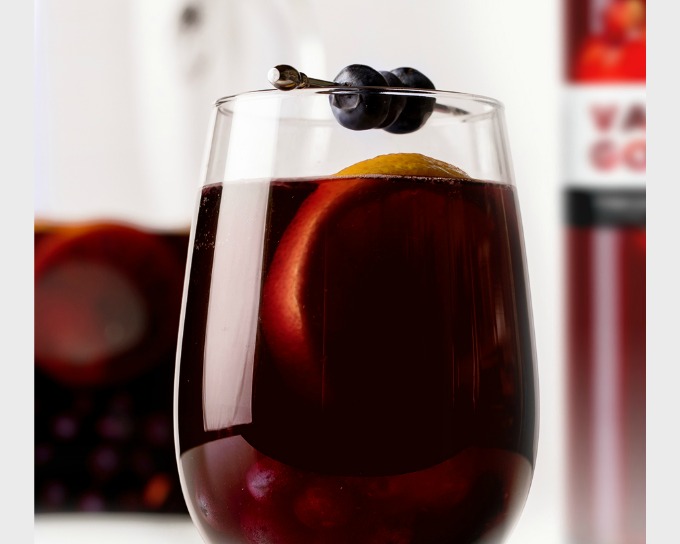 Blueberries are in season, and are perfect for transitioning from summer into fall.
Links may be commissioned.
The key to this blueberry sangria is using a decent quality red wine. It doesn't need to be a fabulous wine, but you want something that's drinkable. Luckily, there are lots of red wines that are really affordable, and honestly, taste pretty good.
If you don't have fresh blueberries, you can definitely use frozen ones. It won't affect the drink that much, honestly. You'll also want a good flavored vodka. This recipe uses Pomegranate Vodka from Van Gogh.
You'll also want a really great pitcher or punch bowl. And while you can slice lemons and oranges by hand, there's no reason to when you have a fancy mandolin slicer. You will find yourself reaching for a mandolin again and again. Stemless wine glasses are perfect for serving this blueberry sangria.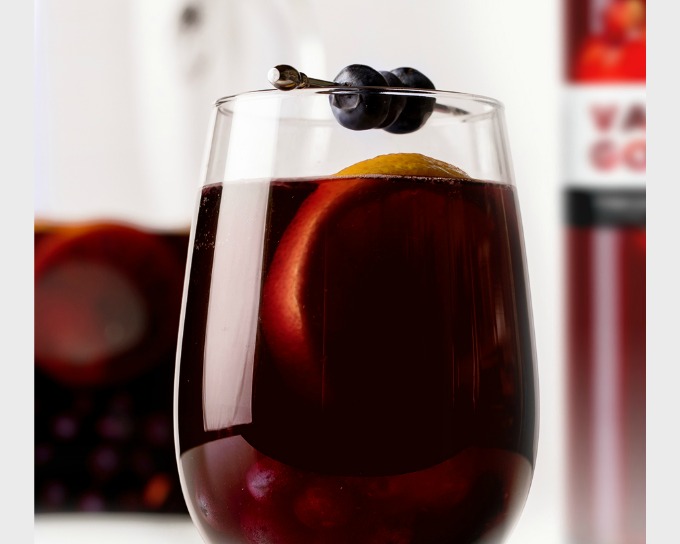 Yield: 8
Delicious Sparkling Blueberry Sangria
Prep Time: 5 minutes

Cook Time: 5 minutes

Additional Time: 2 hours

Total Time: 2 hours 10 minutes

A delicious blueberry sangria that if the perfect farewell to summer and hello to fall weather
Ingredients
1 cup pomegranate vodka
1 750ml bottle Cabernet Sauvignon
1 lemon sliced
I orange sliced
1 cup fresh blueberries
12 oz. club soda
Fresh blueberries, for garnish
Instructions
Clean your blueberries and slice the lemon and orange.
Add vodka, wine, lemon slices, orange slices, and blueberries to a large pitcher and stir to combine.
Let these ingredients chill and marinate together.
Prior to serving, add the club soda and stir gently to combine.
Serve in individual glasses. Garnish with blueberries on a pick, of desired.
Nutrition Information:
Yield:
6
Serving Size:
1
Amount Per Serving: Calories: 120Total Fat: 0gSaturated Fat: 0gTrans Fat: 0gUnsaturated Fat: 0gCholesterol: 0mgSodium: 2mgCarbohydrates: 12gFiber: 2gSugar: 7gProtein: 1g

This drink is perfect for a crowd, as you really just kinda set it and forget it. The ingredients can combine for a couple hours up to overnight. So it's great for making early the day of a gathering.