Remember a little while ago when we told you that floral joggers were going to be so hot for spring?  We're back to show you how to style these awesome flowered pants in three different ways.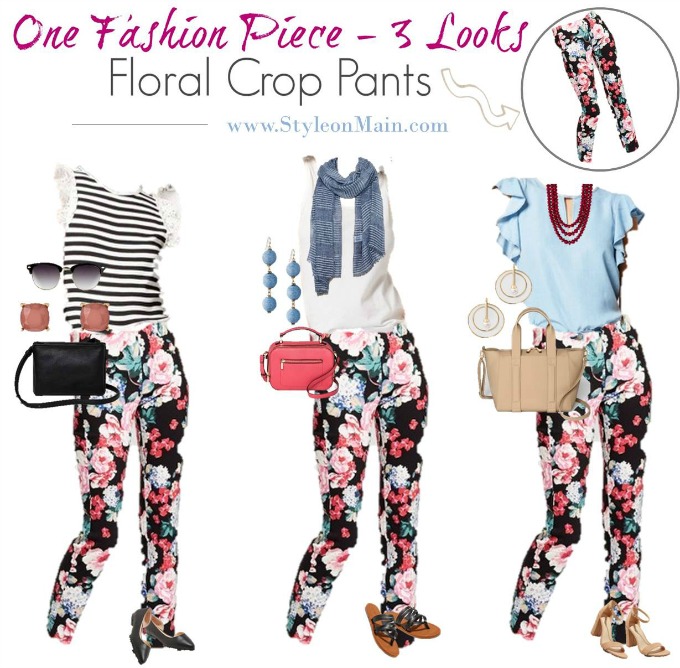 Now that spring is finally threatening to show up for real, I am so ready for it. I am hardcore all about the flowery clothes and shoes this year. All about it.
How to Style Cropped Floral Pants Three Ways
All of the pieces we're using are from Target.   You know what that means!  Affordable, easily accessible, and available in a wide range of sizes for errybody. Plus, you can be all like "of course I need this, it's from Target. We only get things we need at Target." Links may be affiliate links, and we may make a small commission if you buy through them.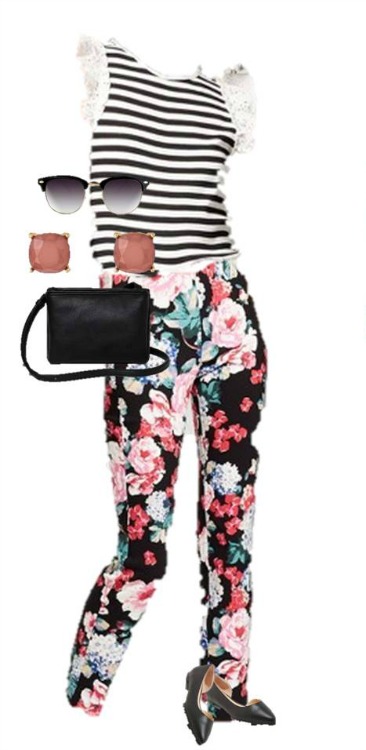 Floral Crop Pants Style One
Floral and stripes are a classic pattern combination that always seems to work.  If you've wanted to try pattern mixing, but were too afraid, start here.
1 Floral Skinny Ankle Pants – Available in a wide range of sizes, and one of the most popular ways to update your wardrobe for spring.
2 Black and White Striped Ruffled Tank Top – So cute and perfect for spring and right on through summer. Also available in all white and black with gingham ruffles.
3 Mohana D'Orsay Pointed Toe Ballet Flats – A great classic shoe with a little bit of a modern update,  Plus, for this price (psssttt…under $15!!) you'e gonna wanna get a pair in very color. Shown in Black.
4 Kennedy Crossbody Bag – A great bag that's a nice size for running errands. Not too big, and definitely not too small.
5 Stud Earrings in Gold/Orange – Cute little earrings that are a fab color, and just that little finishing touch.
6 Women's Clubmaster Sunglasses – I am a huge fan of sunglasses, and these are a perfect pair for spring and beyond. Classically retro, but so modern, too.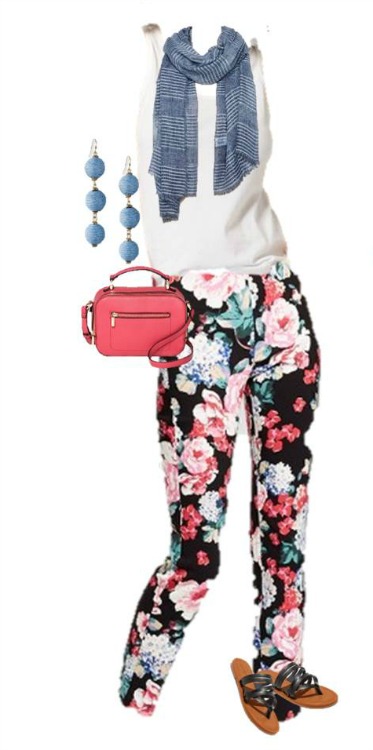 Cropped Floral Pants Style Two
Easy breezy casual style, paired with a simple tank. A fun handbag and a scarf make this outfit look a lot more put together than it is.
1 Flowered Skinny Ankle Pants – Available in a wide range of sizes, and one of the most popular ways to update your wardrobe for spring.
2 Universal Thread Tank Top – Tanks are a great basic everyone should have in their wardrobe.  Available in 6 colors, shown in white.
3 Maritza Multi Strap Toe Slide Sandal – Everyone needs a great sandal for the warmer weather. These are the perfect combo of sandal and flip flop. Available in 5 great colors, including a fab pink shade! Shown in black.
4 Top Handle Camera Crossbody Bag – This is a fab retro inspired bag that's going to be big.  Pick one up today! Available in 6 colors, shown in pink.
5 Triad Ball Drop Earrings from Sugarfix by Baublebar – Everyone needs fun, swingy earrings in their wardrobe. These set off this outfit perfectly. Shown in blue, available in 5 shades.
6 Striped Oversized Oblong Scarf – The right scarf has magical powers. This one ties the hole casual chic version of the floral pants outfit together. And the scarf looks a lot more expensive than the actual pricetag.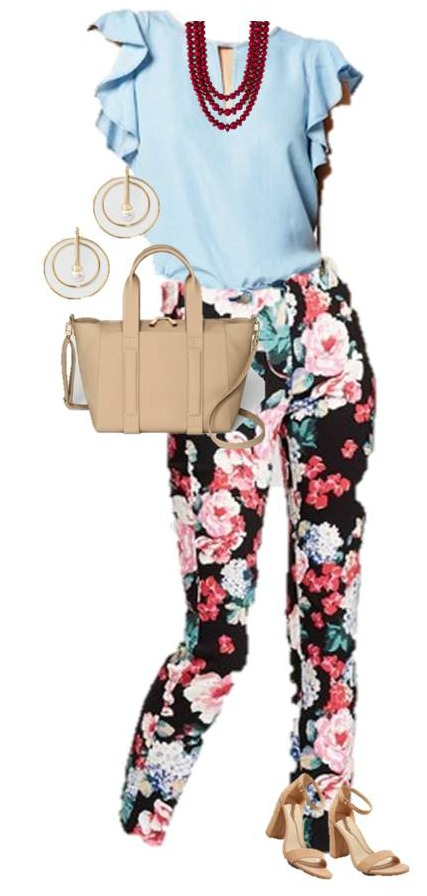 Floral Crop Pants Style Three
A great way to wear the floral pants trend that's office friendly. This is also a great look for date night.
1 Floral Skinny Ankle Pants – Available in a wide range of sizes, and one of the most popular ways to update your wardrobe for spring.
2 Flutter Sleeve Tencel Top – The light blue shade is a fab contrast to the dark pants, and brightens them up.
3 Ema High Heel Block Pumps – Have you heard the news? Chunky heels are back in style. These are chic and will look great with pants or a skirt. Shown in Taupe, available in 4 shades including metallic gold.
4 Everyday Satchel Handbag – It is exactly as described. A great everyday bag that will wear well. Available in five colors, including a great mint green and perfect pale pink. Shown in beige.
5 Pearl and Double Circle Earrings – A classic style with a little modern updating. You'll reach for these again and again.
6 Bold Beaded Statement Necklace – The multiple strands of faceted beads really add a little sumtin-sumtin to this necklace. Available in 6 fun colors, too.
See?  That wasn't so bad!  And most of these pieces are under $20, which is even better.