We all love Downton Abbey, right?  The show seems to take the whole world by storm, just a year ago.  Whoda thunk that a BBC show that was airing on PBS in the states would do that?  But it did.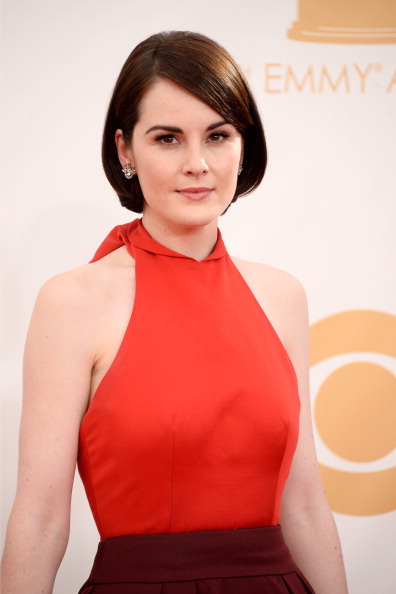 Michelle Dockery, who plays Lady Mary Crawley, was nominated for Outstanding Lead Actress In A Drama Series at the Emmy Awards 2013.
For Michelle Dockery and her 2013 Emmys makeup look, makeup artist Jordan Long, for Laura Mercier, was inspired by a series of stunning watercolors painted by the artist David Downton in the January 2013 issue of Vanity Fair. In order to complement the classic femininity and clean lines of Dockery's custom made Prada gown, Long kept her makeup very minimal, focusing on her glowing skin and strong brows.
How to get the Michelle Dockery Look
FACE: Flawless, glowing skin
  Long first prepped the skin with a moisturizer, eye cream and Laura Mercier Lip Balm, ($20).
  Next, Long applied a fine layer of Laura Mercier Silk Crème Foundation in Soft Ivory, ($45), using a damp sponge. Then she used Laura Mercier Secret Camouflage in SC#1, ($32) to conceal the skin only where needed.
  She then brushed Laura Mercier Crème Cheek Colour in Oleander, ($24) on the apples of the cheeks. In order to give Michelle Dockery a subtle glow, Long mixed Laura Mercier Secret Brightener,($30) with the cream blush.
  Next, she applied a light dusting of Laura Mercier Invisible Loose Setting Powder, ($35), concentrating solely on the t-zone.
Lastly, Long layered Laura Mercier Crème Cheek Colour in Oleander, ($24) on top of the powder, using the Laura Mercier Finishing Brush, ($42).
LIPS: Neutral lips contrasted the star's bright, red gown
  Long applied Laura Mercier Lip Glacé in Bellini, ($24) to Dockery's naturally pigmented lips.
EYES: Strong brows were the focal point of the eyes
First, Long blended Laura Mercier Matte Eye Colour in Fresco, ($23) over the entire lid.
  Next, she used the Laura Mercier Eye Crease Travel Brush, ($29) to blend in Laura Mercier Baked Eye Colour in Ballet Pink, ($23) at the center of the lids and into the corner of the eyes, providing a subtle shimmer.
  She then applied Laura Mercier Matte Eye Colour in Blanc, ($23) just under the star's brows.
  Long smudged Laura Mercier Crème Eye Liner in Espresso, ($22) very tightly to the lashline and followed with three coats of Laura Mercier Waterproof Mascara in Black, ($20) on the upper and lower lashes. She then added a strip of Laura Mercier Center Faux Eyelashes, ($18) to provide a "fluttery pop."
  To finish the look, Long filled in and slightly extended Dockery's brows with Laura Mercier Matte Eye Colour in Coffee Ground, ($23) using the Laura Mercier Angled Eye Colour Brush, ($29).