I am a sucker for a canvas knock around shoe. You know, like Keds that look so adorable with pedal pushers and clam diggers? They look super cute with shorts or a summer dress, as well. Or Vans and Converse that are a perfect fit for your boyfriend jeans and overalls.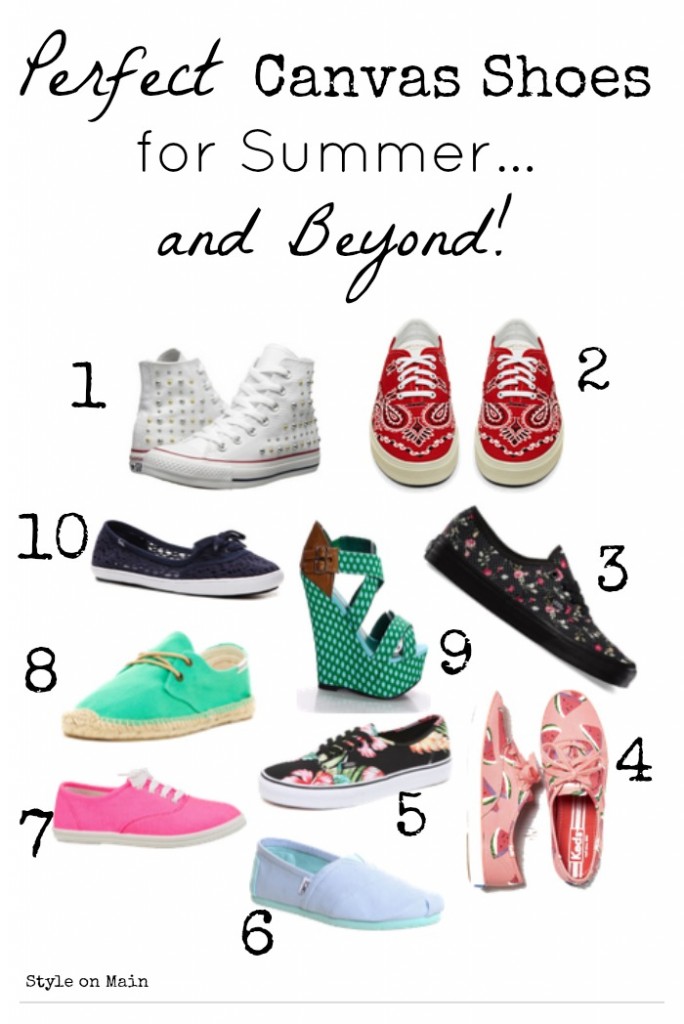 You know what I like best about canvas shoes though? You can toss them in the washing machine when they get icky. Whether it's a trip to the beach or tromping through the mud, they can be cleaned easily. That's a total win-win. These are a few of our favorite canvas shoes for summer.
1. Studded Converse Hi Tops – Available in white or black ($48) 2. YSL Paisley Print Sneaker ($495) 3. Vans Floral Dots ($55) 4. Keds Champion Fruit Sneakers – Available in Watermelon or Pineapple ($50) 5. Vans Authentic Hawaiian Sneakers ($55) 6. Toms Classic Canvas Slip Ons ($48) 7. Cyrel Lace Up Canvas Sneaker ($16.95, some colors as low as $6.95!) 8. Soludos Derby Solid Color Lace Up – Available in Mint Green or Sky Blue ($10) 9. Green Polkadot Platform Wedges ($26) 10. Keds Teacup Crochet Flat – Available in 5 colors ($45)
What are your favorite canvas shoes for summer?