Special thank to U by Kotex for sponsoring this discussion.  Be sure to get your FREE sample.
When I'm traveling, I like to travel light. Well…sometimes.  When I'm exploring a new city, I don't need to drag around my normal purse. I can strip it down to the essentials and just carry what I really need to.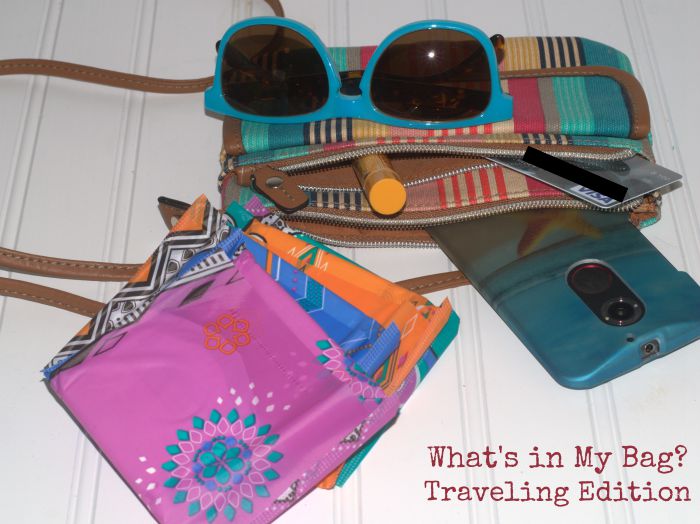 Let's start with the bag. I like a small crossbody with a really long strap.  This one came from Kohls, and was around $25.
Of course, you're also going to need some good quality sunglasses.  The kind that protect your eyes and don't slide down. These are from SUM, and are completely customize-able. The best part?  They're around $25, too.
Lip balm.  Who can live without lip balm.  This is especially important when you're on vacation. Protect those babies!
Gift Cards and Debit Cards – So we can spend money.  Duh. Pretty self explanatory, right?  I save up my random gift cards to use for my vacations. It's almost like hidden money.
Phone.  Let's admit it – our phones are no longer just phones.  They're basically appendages that we can't live without. They keep us connected, document our lives, and oh yeah…sometimes they even make and receive calls. This is the Moto X2. It has really good sound, a great camera and takes pretty good quality video.
U by Kotex pads – Traveling can really mess with your cycle. It's always better to have them and not need them than need them and not have them.  These new ones have 3D Capture Core and Xpress Dri to keep you more comfortable.
For a limited time, you can get a FREE sample of the new U by Kotex line.  Choose from pads, liners, or tampons.
What are your travel must haves for your bag?