We all have that very fashionable woman in our life. Hey, maybe it's you! I mean, if you're reading this, there's a good chance it IS you!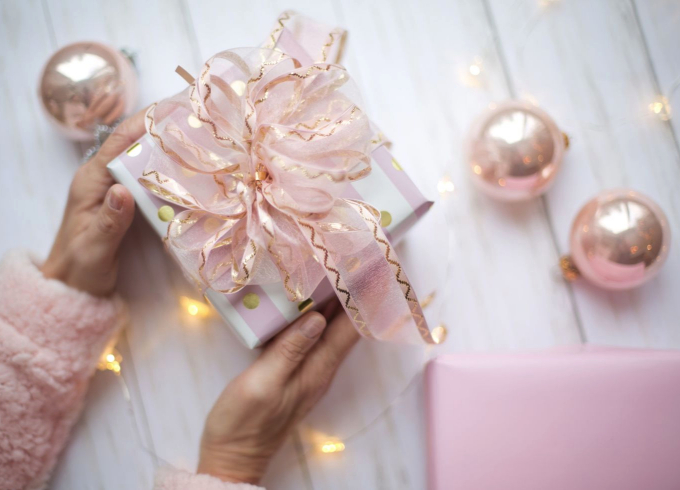 Let the people in your life know what you want for a gift. Here are some of our favorite items that have crossed our desk for the holiday season 2019.
Paid placement and/or editorial samples have been provided. Links may be commissioned. Regardless, we don't recommend items unless we think they're great.
Gift Ideas for Stylish Women
A great hair dryer is a must have item in life. If you think about it, it's probably one of the things that we use most often in our homes. The FHI Heat Chrome Nano Weight 1900 hair dryer is a perfect upgrade, or a great gift idea for the tens in your life. It's feather light and quiet. The Tourmaline Ceramic dries hair up to 50% faster, and the negative ions help seal in moisture, reduce static, and eliminate frizz. There's even a cool shot button to help set hair styles. The hair dryer also includes a diffuser, straightening comb, and a concentrator. And did I mention it's in rose gold? 

Flat irons are still a must have hair tool. Get her the most up to date model from FHI Heat with the Rose Gold Titanium Pro Styler. It allows for the sleek and smooth styles, but also allows for flat iron curls and beachy waves. This flat iron produces negative ions to help seal the hair's shaft, reducing frizz and improving the hair's texture. You can adjust the heat for optimum control and to help protect your hair, and it has rapid recovery to keep an even temperature. Plus it's in the hottest shade of the season - rose gold.

Photo Credit: headzonelighting.com

A good portable mirror is a must have for any stylish woman. The Headzone GO is a great solution. It's a gorgeous compact that comes in your choice of three colors – rose gold, gold, or silver. It has adjustable daylight lighting, and a crystal-clear mirror that lets you see everything. Ev-er-y-thing…It's rechargeable via usb cord too.  This mirror is something that you'll have for a really long time, and is an investment item.

Photo Credit: www.cherryblooms.com

Organizing your makeup can be such a hassle. Especially when you're trying to take it somewhere. Cherry Blooms has a solution with their Ultimate Makeup Organizer. The two-piece set has an inner freestanding organizer that holds up to 80 pieces of makeup and brushes, while the outer bag provides a chic and stylish way to carry your treasures.  Great for the budding makeup artist or someone that's always complaining they can't find things.

Photo Credit: www.cacaoandcardamom.com

Artisan chocolatiers are popping up all over.  One of the great things about this is that they're really pushing boundaries and experimenting.  And we, the consumers, are the ones winning. Cacao & Cardamom pushes the envelope with their great flavors like Blueberry and Lime, Cardamom Rose, and Lychee Basil. Plus, their chocolates are gorgeous. That's a double win.

Instant cameras are tons of fun. The Instax Mini LiPlay takes it one step further. It's not just an instant camera, but when paired with your smartphone, it opens a whole new world! You can print photos from your phone on the LiPlay. You can use your phone as a remote to shoot photos on the LiPlay. It creates QR Codes that play sounds when scanned.  Oh, and it takes those super fun small photos and prints them instantly.

Sooo...you want the fun of printing small photos, but you really like the quality of your smartphone's camera? There's a solution for you!  The Instax mini Link smartphone printer prints credit card sized photos directly from your smartphone. How fun is that?  This would be great for a holiday party, birthday party, or bridal or baby shower.  It would also be fun for a wedding activity and some candid snaps of your friends and family. This also comes in the Pantone color for 2020.

Photo Credit: waxingkara.com

Everyone loves hot cocoa. Why not try some Haute Cocoa? This collection of 5 artisan body care items from Waxing Kara either have cocoa as an ingredient or are chocolate scented. The tower includes a cocoa blueberry mask, body butter, bath salts, and a honey chocolate scrub. It also has a chocolate scented beeswax candle. The tower makes a great gift – for yourself or someone
else.

Spiral waves, beachy waves, and romantic curls are all great hair trends that are happening right now. Get these looks, and so many more, with this 3 piece interchangeable curling wand set. With adjustable heat settings, you'll always have the right temperature for your style and hair type. The ceramic barrels give you frizz free curls and waves. And with safety features like an ergonomic design, automatic shutoff, and a heat resistant swivel cord, you can feel secure using this hair tool.  It all stores in a handy pink sequined carrying case, too.

Photo Credit: www.headbandsofhope.com

Headbands of Hope is well known for their philanthropic endeavors. Their founder has recently written a book called "Chasing the Bright Side" which is all about optimism. They've released a new line to support the book, that's all bright sunshine yellow. With tees, hats, and totes, it's a great way to keep a sunny disposition.

Volition Beauty uses natural ingredients in their beauty items. But they're unique ingredients like snow mushroom and celery. The Best of Volition kit features three of the brand's top selling items – Snow Mushroom Water Serum, Celery Green Cream, and Turmeric Brightening Polish. It's a great
way to test drive Volition and get gorgeous glowing skin.

Aren't these gift ideas for fashionable women fantastic??? Tell me – which of these is your favorite?