We're a sucker for a few things.  Great lipstick.  A fun shade of nail polish.  Cute animals.  Fun shoes. Well, Skechers must have known about this, because they've released a new series in their popular BOBS line that are all cute animals.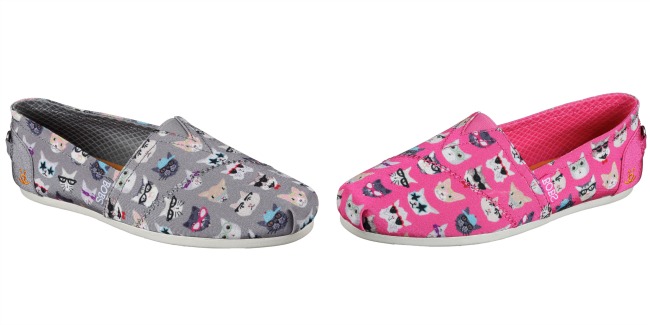 Even better, BOBS has partnered with Best Friends Animal Society (BAFS) to get more animals adopted into homes and out of the shelters. Through February 14th, BAFS + over 200 other rescue agencies are offering $14 pet adoptions.
Adorable Dog and Cat Themed Shoes from BOBS
Links may be affiliate links.
1 Kitty Smarts – How adorable are these cat shoes?  All different kinds of cats, all wearing eyeglasses.  Available in Gray or Pink.
2 Double Vision – Judging by my friends alone, there are TONS of Boston Terrier fans out there. Double Vision is pop art stylized Boston Terriers in loads of fun colors. Available in black or white.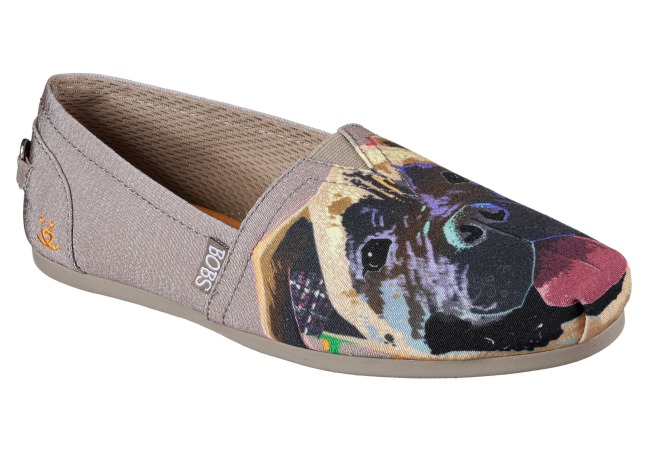 3 Paw-Fection – These are fab portraits of different dogs and breeds. Each color has a different portrait, like a yorkie, a beagle, a mastiff, a Labrador or golden retriever, and a pit bull.
4 So Smitten – These are a little bit subtle, with LOVE embroidered across the top, and including the BAFS logo.
5 Gentle Giants – Much like the Double Vision shoes, these are pit bull silhouettes in varying colors. In Natural and Charcoal colorways.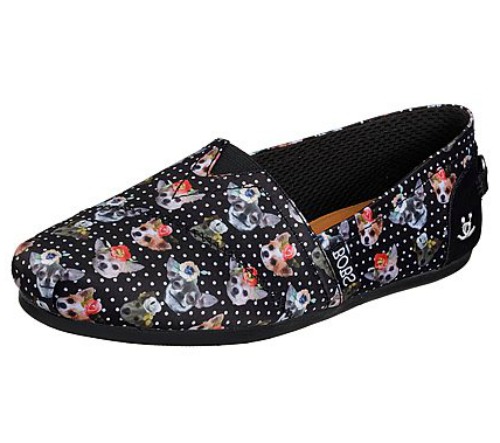 6 Ay Chihuahua – Chihuahuas with flowers.  On a polka dot background.  They're just over the top kitschy, and I love them!
7 Cat-Tastic – Portraits of cats on the toe leave no questions about your loyalties. Available in black or taupe, each with a different pet portrait.
8 See Spot Run – These are a bit glam with the metallic embroidery and a stylized dog face. You don't full realize what the picture is, at first.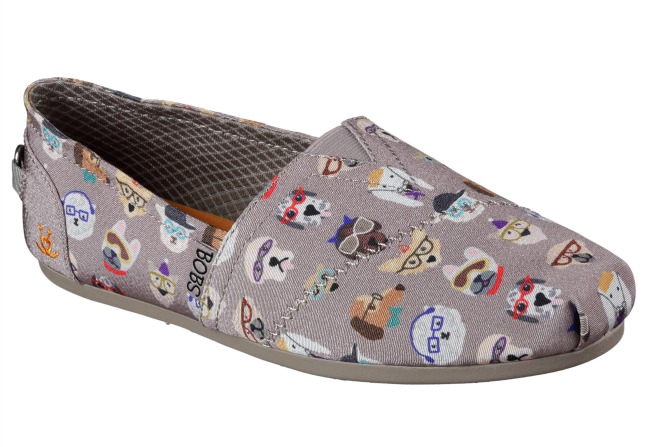 9 Pup Smarts – Just like the Kitty Smarts, but with dogs. One dog even has a monocle!  Comes in taupe and black.
10 Puggin' Around (not pictured) – Classic pugs on a great solid blue background.
These dog and cat shoes also have the BAFS logo embroidered on the heel.  They also have these really adorable bone shaped tags on the back heel with branding.  Pick up a pair of this BOBS animal shoes, and help pets in need of fur-ever homes.
Which of these Dog and Cat Shoes are your favorite?