If you live in a wet climate, you know that you basically have two options when it comes to footwear. Something cheap that doesn't matter if they get ruined, or you have rain boots.  And if you live somewhere it rains a lot, you generally have multiple pairs of rain boots.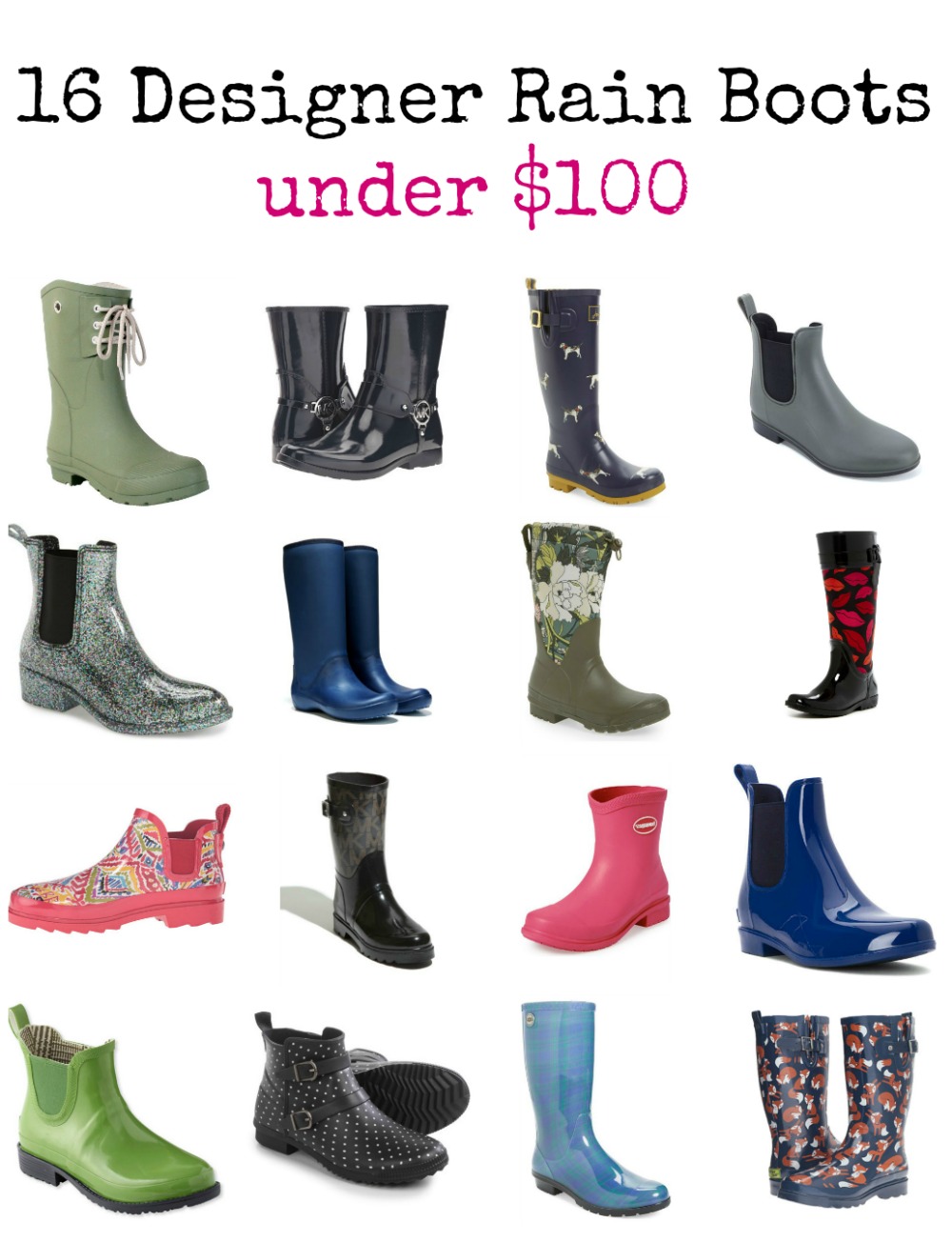 Let's face it – no one wants wet feet.  It's miserable, sets the day off wrong, and honestly, makes you cold. We've compiled 16 awesome pairs of rain boots that are all under $100.  Many are around the $50 price point. And we've managed to hunt down some great designer brands like Michael Kors, Ralph Lauren, Ugg, Diane von Furstenberg, and more.
Designer Rain Boots Under $100
There's something for just about everyone in these designer rain boots.  We've scoured the web to bring you only the best! Links may be affiliate links.
Styles 1-8

DVF Whitney Rain Boot ($90) – We all love Diane von Furstenberg, and know she's anything but a shrinking violet. It just makes sense that these rain boots would be the same way. The bold lip print really makes a statement.  These rain boots aren't for the shy person.
Sam Edelman Tinsley Rain Bootie ($55) – You don't always need, or want, knee high rain boots.  Sometimes, you just want something that's going to prevent your feet and shoes from getting soaked.  Enter the Tinsley. Available in 4 fab colors.
Cougar Royale Ankle Rain Boots ($40) – These short rain boots have an easy on, easy off appeal to them.  Add in the fun polka dot pattern, and it's on! They even have a removable insole, so you can wash it. Available in three colorways.
Ankle Wellie Rain Boots ($69, on sale for $55) – How fun are these green wellies? Make a statement and bring a little sunshine to a dull and dreary day.  These are from LL Bean, and are designed with both comfort and usability in mind.

Crocs Rainfloe Waterproof Tall Rain Boot ($70) – We all know that the Crocs we're used to leave a lot to be desired as far as looks go.  The new Crocs aren't like that, at all.  They're designed with comfort in mind, but with some real style.  These tall rain boots are no exception.
Playful Foxes Rain Boots ($28) – So cute, so trendy, and oh so fun. You can totally get away with having fox rain boots when they're at this price point.
Michael Kors Fulton Harness Rain boot ($99) – These combine a riding boot with a rain boot.  Such a cute style, and the harness has a bold Michael Kors logo. The glossy black color really looks elegant, too.
Nomad Kelly B Rubber Rain Boots ($52) – These are really different. They act like a normal rain boot, but have a great lace up detail in the front. These are available in 4 great shades that all bring a little sunshine into your life.
Styles 9-16

Havianas Galoches Low Rain Boot ($65) – These rain boots have a little bit of western boot styling, and a low 7-inch shaft.  Tall enough to tuck your pants into, but not so tall that they get too hot and uncomfortable.  The articulated sole helps you walk in the wet weather, too. Available in 3 matte colors, but you can get metallic colors here. ($70)
Joules Welly Print Rain Boot ($75) – I am DYING at the cuteness. If you've been here any length of time, you know that I have a thing for fun shoes.  Life is just too short to be boring. These Joules rain boots come in some of the most fun patterns, including dogs(!), dapper foxes, and flowers and stripes.
Ugg Shaye Shearling Lined Waterproof Boot ($80) – I love the dreamy watercolor plaid pattern on these boots. These have the traditional Ugg foot bed liner that's removable and washable.  Available in 3 colorways.
SakRoots Rhyme ($39) – These are basically a shootie.  A shoe that looks like a bootie.  They're ultra-low for comfort and ease of wear.  Let's face it, sometimes all you need is something to keep your toes from getting wet. These come in a ton of colors and fun prints, too.

Michael Kors Logo Rain Boot ($99) – These are a great option for the brand conscious person in your life. Cute styling with a fun buckle strap. Removable foot bed is always a plus!
Ralph Lauren Tally Rain Boots ($59) – These are low boots that have a wide elastic gore on the sides.  This makes them easy to wear, and easy to put on as well as take off. Plus, they come in fun colors like a royal blue and a sunshine yellow.
Sakroots Mezzo Waterproof Rain Boot ($78) – These boots have the super fun colors and patterns that we know and love Sakroots for. Neoprene upper has a toggle drawstring closure to keep the weather out, while the rubber boot part keeps your feet dry. Available in 5 fab colorways.
Jeffery Campbell Stormy Rainboot ($55) – Another shootie/short bootie style rain boot with a wide elastic gore.  This one comes in a glitter finish, though.  Say whaaaa????  I know what I'm picking up for my rain boot this year.
There's something for everyone, and rain boots make a great Christmas gift.  Start buying now, so that your size is still available.
What's your favorite style of these rain boots?