Fall is coming, y'all. I can feel it.  The days are already getting noticeably shorter, and the last week or so, there's been a definite crispness in the air. Pretty soon, it's going to be time to bust out the warm flannel shirts and the sweaters. This casual fall plaid style is perfect for the season.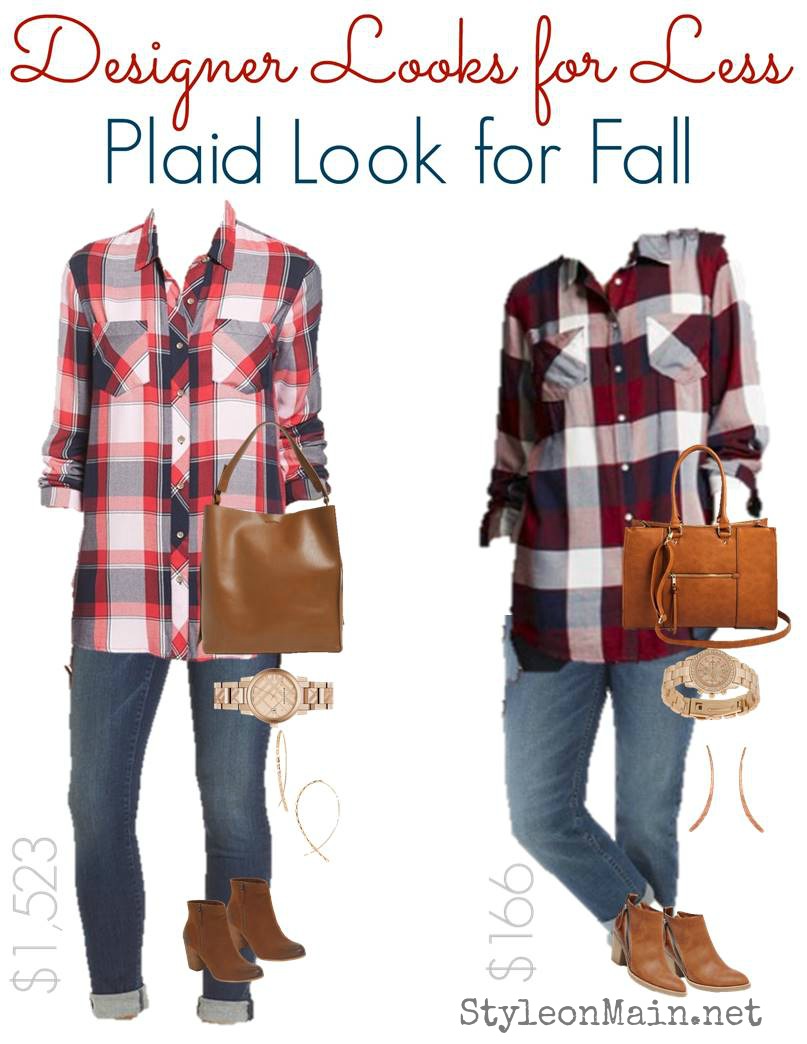 Whether you're out running errands, shopping, hitting up the pumpkin patch and farmer's market, or going out to lunch, you'll look sharp. This casual fall plaid style has that "Oh, this old thang?" vibe, yet is totally polished.
Casual Fall Plaid Style
The high end version is $1500, while the budget version is about $160.  Total win. Links may be affiliate links.
Casual Fall Plaid Style (High End, Over $1500)
Sandra Plaid Boyfriend Two Pocket Tunic (On sale for $39, was $79) – For $40, this shirt should be in your closet.  You'll get so much wear out of it. Pair it with jeans, shorts, leggings, wear it as a light jacket. Comes in 4 colors, too.
Kut from the Kloth Slim Boyfriend Jeans ($45)  – This is actually a great price for jeans, and is totally reasonable.
BP Trolley Bootie ($100) – The stacked heel is back, and the perforated leather gives a little extra texture. These are a great bootie that will transcend trends. With proper care, these booties should last a few years.
Allsaints Paradise North South Leather Tote Bag (on sale for $209, was $348) – This is a wonderful, all purpose bag that will last and last. It's not a bad price. but with shopping around you can probably get an all leather tote bag for less. This tote bag is super similar, and is $40 less than the sale price.
Burberry Check Stamped Watch in Rose Gold (On sale for $596, regularly $795) – Rose gold is a trend that's still going strong.  I adore the plaid pattern on this watch, but $600 is a lot of money for costume jewelry. Really nice costume, but it's still costume.
Lana Glam Small Upside Down Hoop Earrings ($495) – These are so cute, and I kind of love them. These have a chain detail on the front that adds a ton of sparkle and movement. Artisan made in the USA and 14K gold, too. Not a bad price for an item that will last.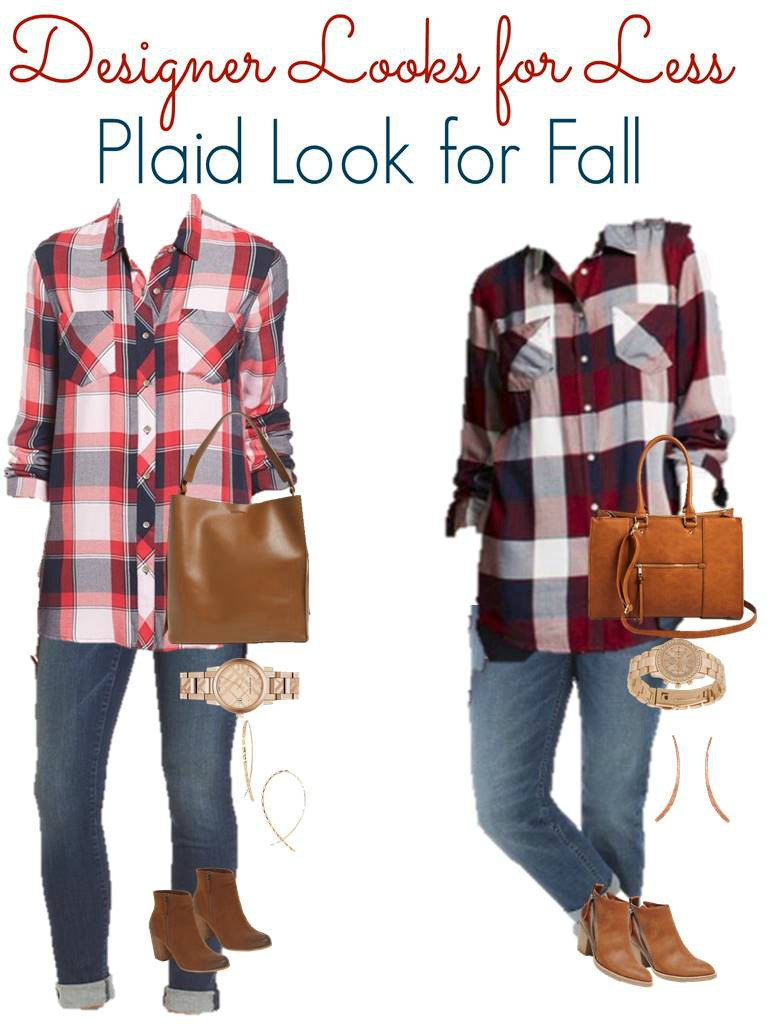 Casual Fall Plaid Style (Budget Friendly Version, around $160)
Merona Women's Favorite Plaid Tunic ($25) – Another great addition to the closet. This is rayon instead of flannel, and might be a better choice for warmer climates.
Englewood Boyfriend Crop Jeans ($28) – These are a special line from the makers of Lee jeans. Very cute, and you can't beat the price.
Faux Leather Tote Handbag ($40) – This is a cute handbag, and looks nicer than the price tag. It's a great "Get the Look for Less" piece.  It's also available in black and a really great red that I may just have to pick up. If you're looking for something that's more tote bag shaped, this leather one is a great deal. And this tote bag shaped purse is fab, too!
dv Jameson Double Side Zip Booties ($38) – These are a cute bootie that's totally on trend. The stacked heel is back, which makes walking on a 3 inch heel that much easier, and I love the cognac color. These are also available in black.
Women's Boyfriend Watch with Rhinestones in Rose Gold ($17) – $17 for a watch?!?! What??? Pick this up, even if you don't usually wear a watch.  It will tie your whole look together and bump up the sophistication factor.
Journee Collection Spiral Hook Gold Filled Dangle Earrings ($26) – These earrings are super cute. For $26, you can be on trend with Rose Gold and the hammered finish.  Gold filled Sterling Silver, so they're pretty decent quality, too.
Which one of these Fall Plaid Style looks is your favorite?  Can you really tell the difference?