It's now officially spring, and Easter is right around the corner.  Noooo…how can that be?  Where is the time going??  Never fear!  We're here to help you get ready for Easter with our awesome Easter nail art tutorials – like this one for a carrot nail art design.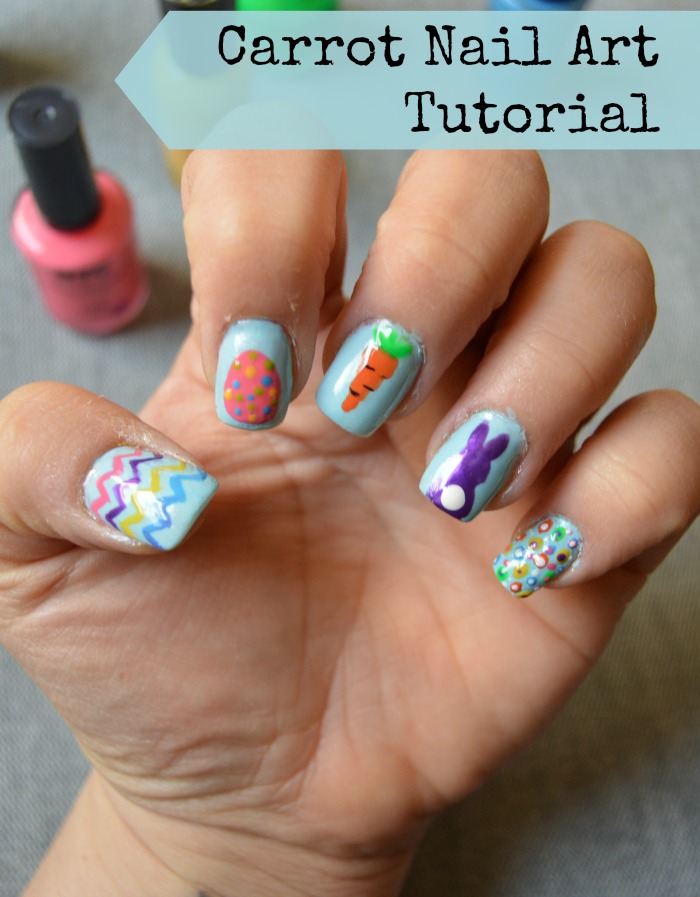 Be sure to check out our Bunny with a Tail nail art tutorial and stay tuned for the Easter Egg nail art tutorial, as well.  With these easy nail art designs, you'll have the Easter manicure everyone is sure to be envious of.
Carrot Nail Art Tutorial
Links may be affiliate links. We'll make a small commission if you buy through our links.
What you'll need:
Spring Green nail polish
Black nail polish
Nail art brush, regular paint brush with small bristles, or toothpick
Carrot Nail Art Instructions

First, start off with your nails clean and dry. Apply  a good base coat, followed by 2-3 coats of a pale/pastel light blue nail polish.  Let this dry really well before you start the carrot nail art. Make sure you also let the polish dry between each step of the carrot nail art.
Starting toward the top middle of your nail, use the orange nail polish to make a horizontal line (across the nail) to start making the carrot. Go below that and make a smaller line. Continue doing this until you have a long triangle shape. If it doesn't look perfect, that's ok! In fact, it will look more like a carrot that way.
Next, add some haphazard small green vertical stripes to the top.  These should resemble greenery.  Use a small nail art brush for the best results.  If it's too light, go over it to achieve the color you want.
Using a nail art brush, paint brush or toothpick, drag black polish in a thin line from the outside of the carrot toward the middle, but don't go all the way across. Do this in a few places. This is where it not looking perfect comes in handy. You can use where you gradually made each part of the carrot smaller as a guide to see where the lines should go. Add a top coat of clear to help protect your carrot nail art design.