I've always loved lace. My first infatuation with the delicate fabric was when Madonna was in the beginning of her career. The little bit trashy look with the dark roots and all the jewelry – I thought she was the most beautiful and special being there ever was. And I wanted to be JUST LIKE HER. And, well…Madonna wore lace. And so I was determined that I would wear lace too.
Fast forward 25+ years, and lace is all the rage again. Is lace a trend that ever really disappeared? Probably not. Lace is everywhere you look, though. On shirts and sweatshirts, even lace shoes. Lace scarves and bags and jewelry. These are some of our favorite lace shoes for any occasion. The best part: all of these lace shoes are wallet-friendly and come in at $60 or less.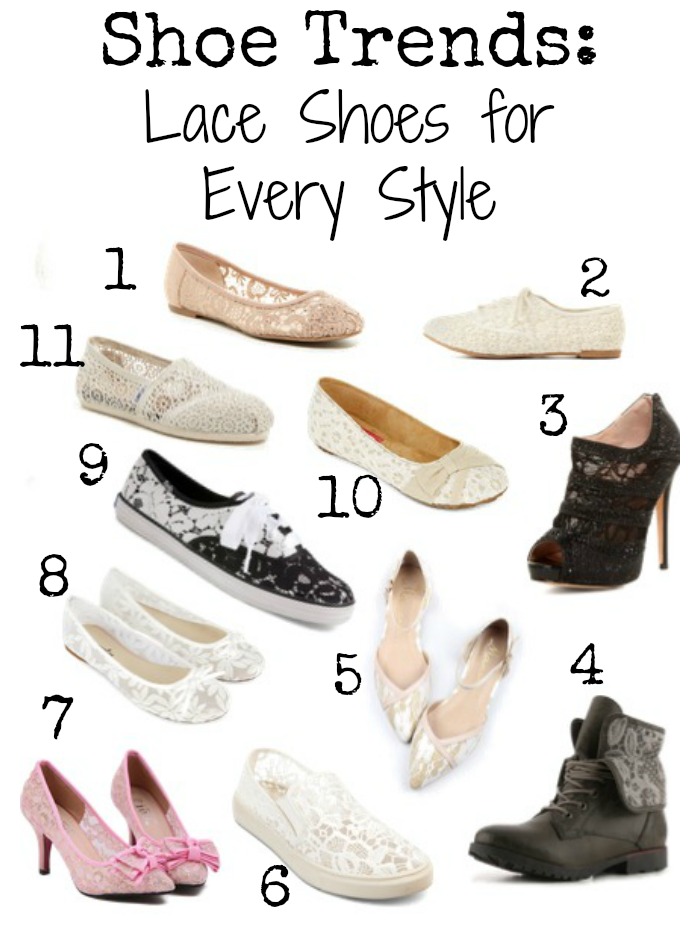 1 Hypnotize Crystal Ballet Flat ($30) 2 Flat Floral Lace Oxfords ($25) 3 Lauren Lorraine Lace Bootie ($60)  4 Rock and Candy Lace Combat Boot ($50) 5 Lucluc Gold Lace Flats ($34)  6 Target Dedra Lace Slip Ons ($25) 7 Nastydress Lace Pumps ($25)  8 Daisy Lace Ballerina Shoes ($43) 9 Keds Lace Sneaker ($40-55) 10 Pop Glenna Ballet Flats ($40)  11 TOMS slip on flats ($59)
Which of these lace shoes are your favorites?  Sound off in the comments!