Thanks to Tilly's for sponsoring this post on Fall fashion must haves for back to school.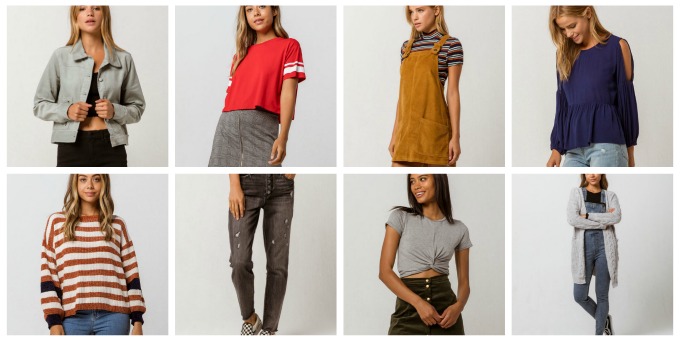 Are you familiar with Tilly's? I mentioned before that I've always been a big fan, and used to shop there when I was a tween and teen.
Tilly's is always stocked with the best styles and fashion must haves for that cool beach and skating vibe.  The SoCal Cool look, as I like to call it. They've spread across the country, but are still focused on what their core was built on, all these years later.
We've partnered with Tilly's to bring you these back to school and fall fashion must haves. It was one of the major stores where I wanted to do my back to school shopping.
Fall Fashion Must Haves for Back to School
Links may be commissioned. Thanks for supporting us by purchasing through them!

Corduroy skirts – I am a huge fan of corduroy. I love the richness that the fabric gives, while being more resilient than something like velvet. These A-Line skirts are great for fall fashion. Pair with boots, or booties for a cute look.
Amuse Society Flirty Eyes Top – A great blouse for fall. The floral print is perfect, and so chic. Dress it up, dress it down. Great for date night or a day at the office.
Coffee Break Women's Joggers – We all love chilling in our pajama pants. But, they're not appropriate to wear out. These jogger pants are the best of both worlds. Oozing with style and comfort, they're gonna be a go to piece in your fall wardrobe.
Billabong Baja Beach Hooded Sweater– This has the feel of the Mexican ponchos, with a ton more style. I love this for one of the fall fashion trends. As easy to wear as the original with a lot more style.
Corduroy Jacket – Denim jackets are still so popular, and a total fall fashion trend. Mix it up a little with a corduroy jacket that has jean jacket styling.
Sporty Crop Tee – Chances are that you'll go to some kind of football themed something this year.  A tailgate. A high school game. An NFL or college game. Sunday at someone's house. Something. This tee is a super cute way to look sporty without investing in team gear. Available in so many colors, and they're Ten American Dollars.
Overalls – Overalls are a major trend for fall 2018. Who knew, right?!?! Available in both pants and skirt styles, I'm kind of digging this. I may add a pair into my wardrobe.
Cold Shoulder Tops – For me, personally, I don't love the cold shoulder look. But on others, I think it can be cute. I really like this one from O'Neil with the peplum and crochet detail.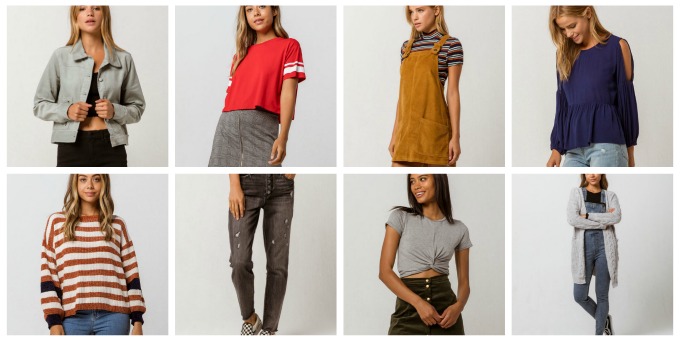 Striped Chenille Sweaters – Awwww yissss…Chenille sweaters are back, baby! I can't cay I'm mad about it, because they're extra cozy. And I love a good striped sweater. Win Win.
Black Distressed Jeans – Distressed denim has been a big trend for a while now and shows no signs of slowing down. But we don't normally see black distressed denim. Tilly's has ya covered with a couple different styles
Twist Front Crop Tee – Super cute tee with a little bit of style. Makes a great layering piece or wear it alone. Plus, they're $10 and come in all kinds of amazing colors.
Cardigans – Fall is a time for sweaters, and cardigans are a major part of my fall fashion wardrobe. Pick up this chenille cable knit cardigan and you'll reach for it again and again.
Kimonos – I love a good kimono. It easily pumps up just about any outfit and makes it more glam. Take a tank and jeans up about four levels with this effortless accessory.
Roxy Softly Love High Waisted Bikini – I'm a big fan of the high waisted bikini, and in a lot of places, we still need a bathing suit for fall. I love this print from Roxy, and the bikini top and bottoms are reversible, and it's also available in a one piece swimsuit.
Qupid Heeled Gladiator Sandal Booties – Kind of a gladiator sandal, kind of a bootie. Totally great for fall. They're perfect for the last days of summer and the warmer parts of fall, and will look cute with tights, too.
Wet Brush – We all need to brush our hair, and the Wet Brush helps to do it without damage. They have a ton of really pretty brushes that are great additions to your bag or your desk. Floral, marble, even tropical styles abound.
Right now, Tilly's is offering free shipping AND 15% off to Style on Main readers. WHOA! Simply use code SOM15 by Sept. 5th 2018. Easy peasy!
So tell me – which of these are your favorite?