There are two kinds of people in this world – those that like Star Wars, and those that are wrong!  Seriously, though…there's the people that are Star Wars fanatics and then there are people that are like "yeah, it's okay…"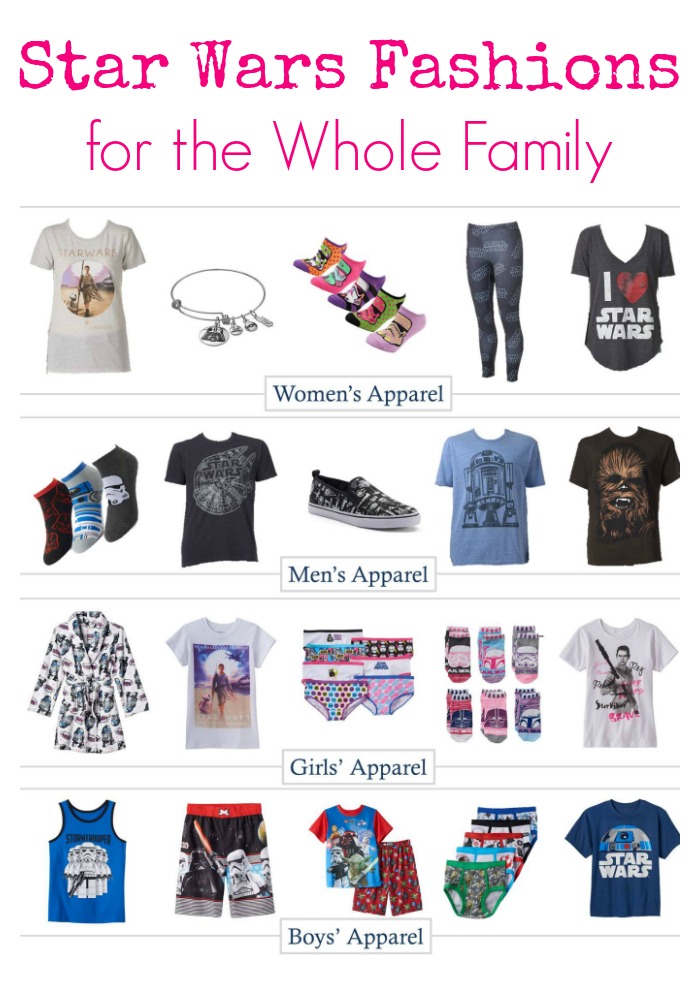 The Star Wars love got a boost this week due to the viral video of a woman showing off her Chewbacca mask.  While that's no longer available, there are still some pretty awesome Star Wars fashions and clothing items available.  We've collected a few of our favorite Star Wars apparel pieces from Kohls for the whole family. Check out these awesome Star Wars Christmas items, too!
Star Wars Fashions for the Whole Family
You know Kohl's always has great sales, and there's always a coupon floating around. Retail prices are listed for the Star Wars fashions, but the actual price is probably less. Links may be affiliate links.
Women
Star Wars Rey and BB-8 Tee ($20) – Show your love for Episode VII with this tee.
Star Wars Darth Vader Stainless Steel Charm Bracelet ($75) – Do you love the bad guys?  This is the bracelet for you then!
Star Wars No Show Socks ($12) – These are for your undercover love of Star Wars.  Take off your shoes and BAM!  Everyone knows!
Star Wars Galaxy Leggings ($12) – Leggings are having a renaissance!  Show your love of Star Wars with this pair.
I Heart Star Wars Hi-Lo shirt ($12) – Super cute scoop neck style with distressed logo.
Men
Star Wars Athletic Socks ($12) – How can you go wrong with Darth Vader, R2D2, and Stormtroopers on your socks?  Ya can't!
Star Wars Falcon Plans Tee ($15) – This tee is a great way to show your fandom without wearing characters.
Star Wars Hyperspace Men's Slip On Sneaker ($50) – Such a fun, casual shoe for him. These are perfect for his weekends or off-time.
Star Wars R2-D2 Shirt ($15) – Not even gonna lie, I'm kind of in love with this one. I am adoring the simple graphic and the vintage feel.
Star Wars Chewbacca Tee ($15) – This is fun and almost a little subtle. Like a wink and a nod.
Girls
R2-D2 Fleece Robe ($16) – Everyone needs a robe.  Why not show your love of Star Wars with this fleece one.  While it may be a little warm now, pick one up and save it for the cooler months.
Star Wars Rey and BB-8 Tee ($24) – This is a lightweight tee that's perfect for summer.  The graphic is fun, but from the reviews, it looks like it runs really small. So, keep that in mind! You could even pair it with the Rey + BB-8 tee from above for a Mommy and Me set.
Star wars Hipster Undies ($18) – Super cute prints in undies for her. There's even Storm Troopers and Darth Vader, not just the girl characters!  These sound like they run small, too, so keep that in mind.
Star Wars Low Cut Socks ($12) – No one wants sock tan lines!  Yet,w e still need to wear sneakers.  These low cut socks are just the ticket.
Rey: The Force Awakens Tee ($24) – Show your love of everyone's favorite new heroine, Rey!
Boys
Lego Stormtrooper Tank ($14) – How adorable is this?!?!  The sporty feel just add to it.  Lego + Star Wars = Total Win!
Darth Vader + Stormtrooper Swim Trunks ($24) – He probably needs new swim trunks for the summer anyway.  Why not show your his love of Star Wars at the same time?
Lego Star Wars Pajamas ($30) – I am IN LOVE with the Lego Star Wars crossover.  Super cute, yet so totally cool for the boys in your life.
Lego Star Wars Undies ($15) – Who doesn't want Star Wars undies?
R2-D2 Tee Shirt ($14) – Like the men's shirt above, this is a more subtle nod to the fandom.  You don't ALWAYS want to wear a character.
These are some of our favorite Star Wars fashions for the family.  Which one is your favorite?