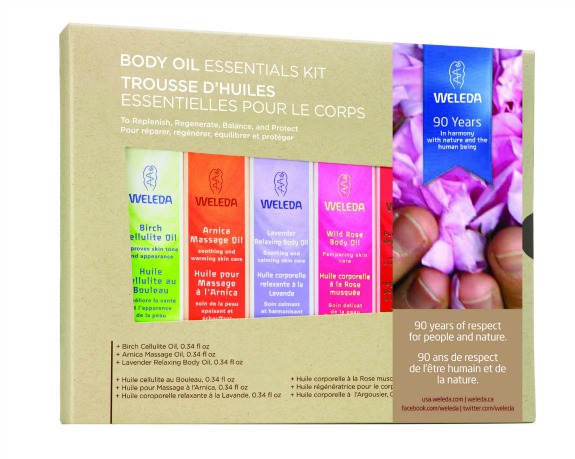 I have mentioned my love for Weleda products a few times before.  These skin care products are all natural, vegan, and have been using the same tried and true recipes for 75+ years.  Weleda products also have this great vintage-y vibe about them that I just adore.  I think it's the natural glass packaging that reminds me of the 1930's.
Mother's Day is rapidly approaching.  Doesn't mom, the woman that raised you and does everything for you, deserve some super awesome pampering products?
Help her unwind and treat her skin to a full-body, pampering, at home spa-treatment with the Body Oil Starter Kit ($15.99).  Soothe sore muscles, restore skin's natural balance and wrap her in a layer of warmth with these conveniently sized body oils.  Perfect to take on-the-go to delight the senses and lock in much needed moisture, Birch Cellulite Oil, Arnica Massage Oil, Lavender Relaxing Body Oil, Wild Rose Body Oil, Sea Buckthorn Body Oil and Pomegranate Regenerating Body Oil will leave her skin soft and glowing.
Celebrity moms know how to keep their skin healthy, glamorous and replenished no matter the occasion. Help mom step into the spotlight with Weleda's deeply hydrating, cult-favorite, Skin Food ). Infused with organic sunflower seed oil, soothing rosemary leaf and nourishing organic calendula flower extract, Hollywood moms such as Julia Roberts, Victoria Beckham, Heidi Klum and Adele can't get enough of this intensively nourishing do-it-all cream that works to heal dry, pesky skin on elbows, knees, hands and face.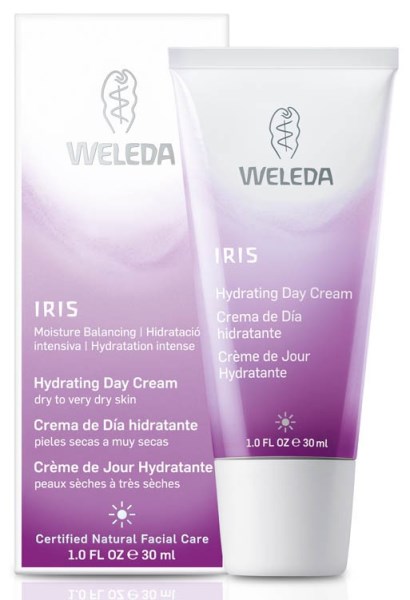 While some new moms experience oily skin post baby, others wind up with dry, flakey, aggravated skin.  All mothers want to look their best at any age, so give her skin a little boost of TLC with the Iris Hydrating Day Cream . A nurturing gift mom can use every day of the year to lift her mood and indulge her senses, Iris Root extract promotes balance within the skin while hydrating naturally and evenly to create supple perfection and glow.
Where Can I Buy Weleda Products?
Weleda can be found at some natural foods stores, Whole Foods, and select items can even be found at Target.  Of course, you can always purchase directly from Weleda, as well.