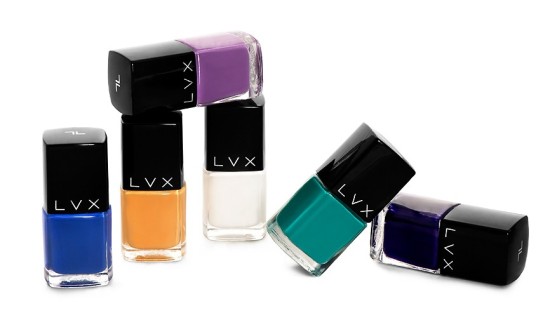 The Spring 2013 lines are starting to be released, and that makes for an exciting time.  Personally, I'm really happy to see lots of pretty color back in fashion and cosmetics, not just color for the sake of color.
LVX, a luxury nail polish line, has released their Spring colors.  And they are beautiful!  The line consists of the following jewel-inspired colors:

Viridian – Gorgeous Emerald Green
Indigo Bleu — A perfect Navy Blue
Citrine – Golden citrus yellow
Fantom – Fantastic white
Cerulean – Luscious medium blue
Azalea – Perfect lilac purple
SRP should be around $16 each.  LVX is a vegan nail polish line.  They're made without formaldehyde, Toulene, DBP, Camphor, and formaldehyde resin.  As a bonus, the polishes are made in the USA and are cruelty free as well.