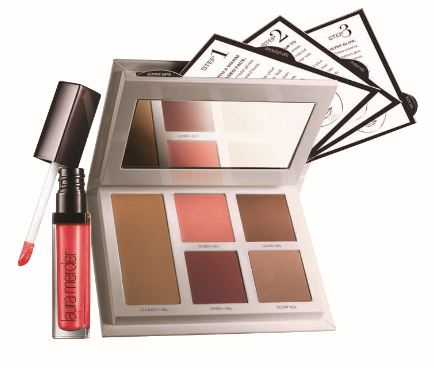 I'm a huge fan of all in one palettes.  I find them to be especially handy when I'm traveling.  Whether I'm going on a business trip for work, or just gallivanting on a long weekend, if I can grab a couple of compacts for my bag, it makes my makeup decisions so much easier!
The Bonne Mine palette by Laura Mercier is  ideal for these types of trips.   The Bonne Mine palette includes a bronzer, two blushers, and two highlighters.  Due to the sheer nature of these colors, they're referred to as veils.

Using the Bonne Mine palette is easy.  Using your fingers, simply apply the Bronzer Veil where the sun would naturally hit your skin.  Next, apply one or both of the Blush Veil shades.  Again, they're sheer, so you can layer the shades to create your own color.  Finally, finish your look by adding one of the Glow Veils as a highlighter.
The perfect lip to go along with this palette is the limited edition Rose Hope Lip Glace.  A great rose shade that's universally flattering, this can be worn on it's own or layered over other lip colors for different looks.  Even better, Rose Hope Lip Glace is long lasting.  I hate when my lip gloss wears off after about 20 minutes!
The Bonne Mine palette retails for $48, and the Rose Hope Lip Glace retails for $24.  100% of the profits from the sale of these two items will go to the Laura Mercier Ovarian Cancer Fund.  You have to feel good about buying makeup, especially when the money goes to such a great cause.
These items can be found at any place that Laura Mercier cosmetics can be found, including Sephora, Saks Fifth Avenue, Nordstrom, and similar stores.