I received a promotional item for sharing about Helzberg Diamond's We Just Click contest.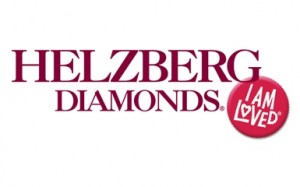 Sometimes, you meet someone and you just know it.  Yup, that's the one.  Other times, it takes longer.  A lot longer.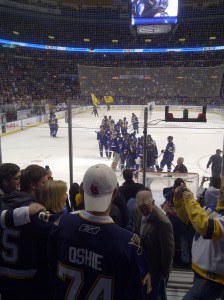 This picture pretty much sums up my relationship.  Yep.  We're all about hockey.  I mean, sure.  We both have other interests, even other mutual interests, but the thing that drew us together was hockey. As two die-hard fans, we talked about hockey.  A lot. That led to games and to romance.
A video from our first date.  It's of the shootout at the Kings-Penguins preseason game in Kansas City.
Regarding the first pic:  I can't remember who played, but the St Louis Blues won.  Since he's a die-hard Blues fan, and I'm, uh…not,  I didn't hear the end of it.
It's been said that Diamonds are a girl's best friend.  Know who her other best friend is?  Her spouse.  Helzberg Diamonds knows this.  In fact, they want to celebrate your two best friends with you.
With the new "We Just Click" contest, Helzberg Diamonds wants to see the essence of your relationship, your story, in just three photos.  It could be three photos that totally describe you.  It could be how you met, the history of how your relationship has evolved, or just how wild and crazy you guys are.
What does the winner get?  The winner gets a $1000 Helzberg gift card that they can put towards the purchase of an ideal cut diamond.  For details, head on over to the We Just Click page and follow the directions.  Easy peasy!!
You only have until November 6th to enter, though.  So hurry!!