This holiday fragrance post is sponsored by Lunchbox. All opinions are my own.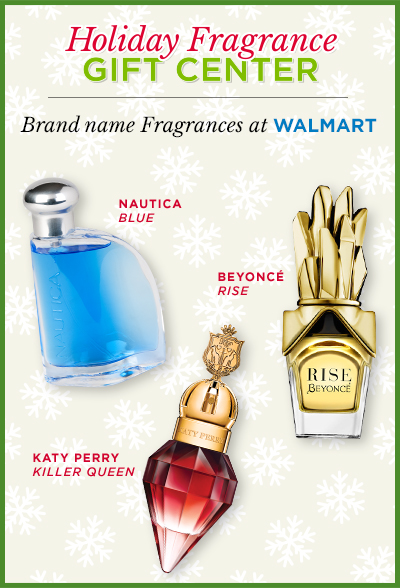 Holiday shopping can be tough! There are those on your list who give you a verrrryyy detailed list of what they do and do not want.  Then, at the totally opposite spectrum, there are those people that tell you "oh, anything you give me will be perfect."  Perfect?!?!  That's a lot of pressure!
Luckily, we have help.  Head over to the Holiday Fragrance Gift Center at Walmart for all of your favorites scents.  Walmart's Holiday Fragrance Gift Center doesn't just have classics like Jovan Musk and Nautica Blue.  Nope.  They have the hottest fragrances from our favorite celebrities like Killer Queen from Katy Perry and Fame by Lady Gaga.
I'm sure you have someone on your gift list that loves Beyonce.  I mean, they don't call her Queen Bey for nothing! Wouldn't they love one of her signature fragrances like Heat Rush or Pulse from the Holiday Fragrance Gift Center? I'm pretty sure they would.  Heck, you could even find them a fabulous, exclusive boxed set.  You'd be super popular.
Maybe you're looking for a new fragrance for yourself, instead.  That's totally okay.  I like to do my shopping by buying two presents for others, and something for me.  I think that's only fair.  Take this super fun holiday shopping quiz and see what they recommend for a scent.  Even better – at the end of the quiz, there's a coupon for $4 off these special fragrance sets.  Who doesn't love that?!!?
With Holiday Fragrance gift sets starting as low as $8.98, there's something for everyone and something for all budgets.  The Holiday Fragrance Gift Center has fabulous gifts for both men and women.  This also makes a fun gift for the tweens and teens.
Giveaway
Enter to win one of 5 $50 Walmart Gift Cards.  Imagine how many different holiday fragrances you could buy with one of these babies!
Holiday Fragrance Gift Center Giveaway