"This is a sponsored post. I am a Shop Your Way blogger, though all opinions are my own." 
I have a confession to make. I love to shop. Love love love it. I don't always buy, and I'm not always looking to buy. But I love to shop. And I'm really good at it. Tell me what you're looking for, and your budget, and I will hunt it down for you. I generally come in waaaayyyy under budget, too. Because I'm that good.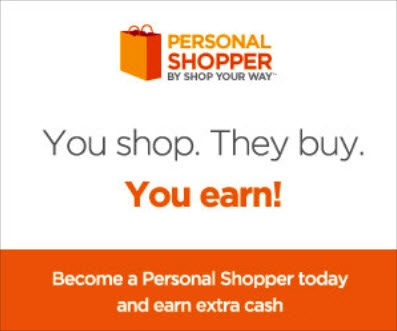 One of the newest tools in my shopping arsenal is the Shop Your Way portal. While it seems to be mostly Sears, Kmart, Land's End, and the affiliated brands at first glance, there's really so much more to the site. And there is literally anything that you could want to find on the site. Sometimes, you'll see me sharing a few items from the site that I really dig. Things that I think others would like. I also have had people that ask me to look for specific things. Like recently, one of my friends asked for my help in finding a couple pairs of boots for Fall. I am on it! I added the boots, and a few other things I thought she'd like, to a list and sent it over. She can easily purchase her choices and we both win.
You see, I'm a personal shopper on the Shop Your Way site, and you can be, too. Just sign up here, and follow the steps. You could be helping your friends find the best deals on the hottest trends in no time flat.